Gorillas are ground dwelling apes that can be found in the forests and mountains of East and Central Africa. There are two distinct species, the lowland gorillas and the mountain gorillas.
Lowland gorillas:
Lowland gorillas are found in the equatorial forests of central Africa and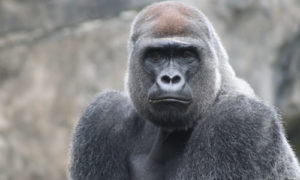 particularly DR Congo. Lowland gorillas are smaller with brown-gray coats and are commonly seen in zoos around the world. They are herbivorous and mainly feed on juicy plants, wild berries and leaves. The Kahuzi Biega National Park and Odzala-Kokoua National Park in DR Congo are famous for Lowland gorilla tracking.
Note: Whereas there are over 100,000 lowland gorillas surviving in the wild, only about 1000 mountain gorillas remain. Mountain gorillas are an endangered species and have attracted greater attention and interest from conservationists and tourists.
Mountain Gorillas:
Mountain gorillas are found in the mountainous borders between Uganda, Rwanda and DR Congo. They are larger, have blacker coats, live in a smaller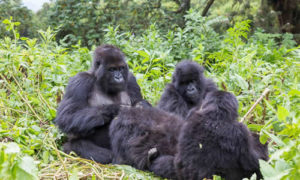 range and are usually led by a dominant male silverback. They live in dense jungle and high altitudes feeding mainly on foliage in the mornings and afternoons. Despite their large size, Mountain gorillas are more peaceful and calmer than lowland gorillas. They move constantly to new feeding grounds as they build nests for the day. Mountain gorillas are not found in zoos. The western world first came to know of mountain gorillas when German explorer Von Berenge spotted a group of mountain gorillas in 1902 while hiking in Rwanda's Mount Sabyinyo. After further analysis, it was discovered that mountain gorillas where a different and larger specie than the already known western lowland gorillas.
Dian Fossey later studied mountain gorillas extensively between 1967 and 1985 at her Karisoke Research Site located between Mount Bisoke and Karimbi. She is credited with initiating gorilla conservation and protection activities in East Africa.
Mountain gorillas are only found in the three countries of Uganda, Rwanda and DR Congo. In Uganda, they are found at Bwindi Impenetrable Forest National Park and Mgahinga Gorilla National park. Mountain gorillas are also found in Rwanda's Volcanoes National park and DR Congo's Virunga National Park. According to the World Wildlife, half of the worlds remaining mountain gorillas live in Uganda. A detailed description of how to get to the parks in the different gorilla trekking countries can be found here.
Mountain gorillas share 98% of the same genes with humans. They weigh more than we humans – About 500 pounds for the largest silverbacks. Males are called silverbacks because their back hair changes to silver as they grow older. A fully grown male silverback is ten times stronger than the largest male person you can find.
The chance to track mountain gorillas is the ultimate wildlife experience. Whereas a safari to view the big 5 is great, nothing beats watching mountain gorillas in their natural habitat – Gorillas are our relatives. It is estimated that only about 1000 mountain gorillas now survive in the world.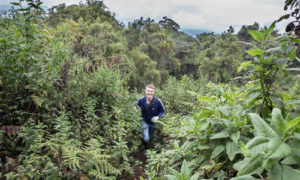 Half of these are found in Uganda and the other half shared by Rwanda and DR Congo. Only about 20 percent of mountain gorillas are habituated – A two year process of allowing time for a particular group to get used to humans in their midst. Non-habituated mountain gorillas are unpredictable and visitors are not allowed near them. Mountain Gorilla trekking involves passing through dense forest, steep hills and mud-filled pathways. Depending on the gorilla family you choose, the activity may take anywhere between half an hour to 8 hours. The best time for gorilla trekking is usually just after the rains have stopped and the parks are still very green but less muddy. We recommend that you prepare yourself physically and psychologically for your adventure.
The ultimate guide to gorilla trekking
We have taken time to compile information that we feel will be useful and make your gorilla safari in Uganda, DR Congo and Rwanda more exciting. This information will help you answer questions related to:-