Mountain gorillas are critically endangered and many have been fallen victim to poaching in Congo or caught in crossfires between armed groups and government soldiers. Gorillas live in areas with fertile land and rich vegetation inevitably resulting in frequent contact with humans. These frequent contacts lead to competition for space, spread of diseases from humans and animals (rabies) and deforestation.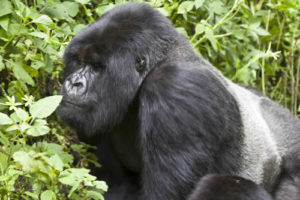 Many conservationists have died in the process of protecting gorillas. Zoologist Dian Fossey was killed by poachers in Rwanda for her strong conviction to protect mountain gorillas. Over 160 rangers have lost their lives protecting gorillas in Congo alone. To increase the population of mountain gorillas and stop conflicts with humans, the government of Uganda decided to remove the Batwa people from the park and relocate them elsewhere. Illegal entrance and farming inside gorilla parks is prohibited but park rangers have to always be on the guard against poachers and armed groups sometimes hiding in some of the parks.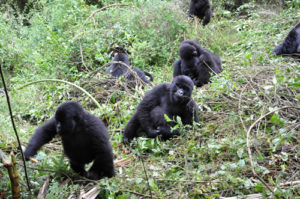 The number of gorillas has increased steadily in the last few years as shown from the gorilla census in 2012. It is now believed that the combined population of mountain gorillas in the wild could well be slightly over 1000. Gorilla conservation and tourism proceeds have been responsible for the increase. Communities like the Batwa who used persecute the gorillas have been rehabilitated in new areas. Several projects have been started to improve their livelihood and develop alternative fuels other that charcoal burning. A portion of money got from selling gorilla permits is used to improve the livelihood of communities living near the parks. In DR Congo, former poachers have been recruited as wardens and guides. These former poachers now see working for the gorillas as a source of livelihood for their families. They are paid salaries and get tipped by visitors to the parks.
Mission Africa Safaris has compiled a list of gorilla conservation initiatives and organizations that help raise funds and awareness about the endangered mountain gorillas in Uganda, Rwanda and Congo. These organizations work together in Uganda, Rwanda and Congo to ensure that the number of mountain gorillas keep rising. They usually carry out a gorilla censuses after about five years to know the the exact number of gorillas in the wild and gauge the impact of their programmes. Besides the gorilla census, these gorilla conservation and protection organizations carry out extensive research to find out the level of poaching, any threats to the gorillas and disease prevalence. They organizations include:
Dian Fossey Gorilla Fund international (DFGF)
The mountain Gorilla Conservation Fund ( MGCF)
International Gorilla Conservation programme (IGCP)
Articles of Gorilla Doctors- mountain Gorilla Veterinary project
The Gorilla Organisation (TGO)
Rwanda Development Board
Uganda Wildlife Authority (UWA)
Conservation through Public Health (CTPH)