This 3 Days Uganda gorilla safari to Bwindi forest national park involves experiencing a cultural tour to the Batwa pygmies – The Batwa pygmies were the original inhabitants of the Bwindi impenetrable forest park before they were relocated elsewhere to gazette the forest for mountain gorilla conservation.
Gorilla trekking in Bwindi Forest offers visitors 11 gorilla families to choose from. Visitors to Bwindi have a unique option of taking part in the mountain gorilla habituation experience if they so which. During this special treat, visitors are allowed 4 hours with a gorilla family in the jungle unlike the standard one hour of gorilla watching.
Activities :
– Bwindi Gorilla Trekking
– Visit to the Batwa Pygmies cultural village
Day 1: Pick up and Transfer to Bwindi National park
Pick up from your hotel after breakfast early morning driving 8-9 hours south of Uganda to Bwindi national park. Dinner and overnight at Chameleon Hill Lodge (luxury), Bakiga Lodge (Midrange) and Tarvan Trekkers Bwindi (Budget)
Day 2: Trekking with Uganda Gorillas – Batwa Pygmies visit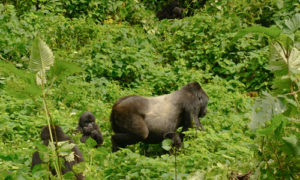 Briefing for gorilla trekking takes place at 7:00 am by a head park guide at the Bwindi park head offices. All gorilla trekkers must be at the park by this time and must attend the briefing which is an overview of what to expect during the gorilla trekking. Gorilla safari in Bwindi forest offers you several gorilla groups/ families to choose from and it's important to select one based on fitness. gorilla tracking is challenging and but when you finally see the mountain gorillas, the experience is  awesome. You will always remember the one hour spent watching mountain gorillas.
It is always amazing to watch a family of mountain gorillas. You could spend hours just watching the little ones roll around and play. Mountain Gorillas are very playful and curious – don't be surprised if they come too close to you. While with the gorillas, its important to listen to instructions from your guide. Never make sudden movements while with mountain gorillas.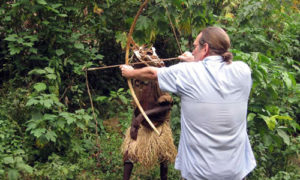 After  spending one hour with the gorilla family, you will be led back to the starting point where our official guide from Mission Africa Safaris will be waiting to take you back for lunch at your hotel. You will head out to visit the Batwa pygmy cultural community in the evening. The Batwa originally lived in the forest but often had conflicts with the gorillas. The government  decided to relocate them elsewhere to allow for smoother gorilla conservation activities.  Dinner and overnight at Chameleon Hill Lodge (luxury), Bakiga Lodge (Midrange) and Tarvan Trekkers Bwindi (Budget)
Day 3: Transfer back to Kampala for departure
You will wake early to take breakfast before heading back to Kampala in time for  your departure flight or be dropped off at your hotel.
End of Tour
Minimum trekking gears you need:
Good hiking boots, gators, thick cotton gloves, a light raincoat, light snacks and drinking water.
N.B: Porters are available for hire at the starting point.  Many of these porters were once poachers and have now been given a change to earn some money to keep them away from harming the animals in the park. They will help you carry extra heavy luggage and equipment.
For optimal trekking adventure
Be fit enough
Wear the right footwear for the difficult terrain
Plan for the rain
Carry enough drinking water and light snack
Motive the guides and wardens by giving tip. A tip of $10 is recommended.
Safari Quote Includes
– Full time private safari vehicle (according to your itinerary)
– A Full-Time Private Driver/Guide
– Fuel for your safari
– Gorilla Permits
– Bottled drinking water per day
– All Activities in Itinerary
– Pickup and drop-off at your desired location in Kampala or Entebbe
– Cultural / community visit to the Batwa
Excludes
International & local flights, visas, personal costs like tipping, beverages, wines, Personal Insurance.
Important Notes:
– Itinerary does not include arrival Accommodation / Dinner (But can be arranged)
– Minimal Age for gorilla trekking is 15 years
– No discount on children Except if sharing room with their parents
– Visitors should ensure that they have checked the visa and inoculation requirements. (Please ensure you check all transit points visa information).
– It is a requirement to have a yellow fever immunization card to enter Uganda.
– Online Visa Application is necessary before travel. (This depends on the nationality in respect with the country being visited. Verify the information accordingly)