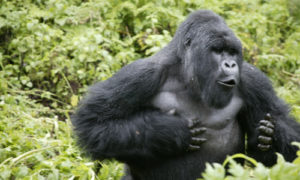 Our 1 Day short Gorilla Tour to Bwindi Uganda package takes you to a park hosting half of the remaining population of Mountain gorillas. The rest are found in Uganda's Mgahinga gorilla park, Rwanda's volcanoes national park and DR Congo's Virunga National Park. Bwindi Impenetrable Forest Park in Uganda is recognized as a UNESCO world heritage site for its breathtaking green/dense forests and creatures that live therein. Mountain gorilla trekking is the main activity in Bwindi but several other primates, mammals, reptiles and butterflies also call the park home. The park is a birders paradise and contains over 300 bird species. However none of the other activities available in the park compares to gorilla watching – the ultimate wildlife experience is!
This 1 Day short gorilla trekking tour package to Bwindi forest is designed for clients who may not have enough time to spare but wish to track gorillas in one day before heading for work or a meeting/workshop. The package is therefore designed for those who are already in Kisoro or Kabale. The final costing includes the price of the gorilla permit which is secured well in advance of the tour.
You will wake up very early to have breakfast in your hotel. A guide/driver from Mission Africa Safaris will pick you up between 5am to 6am depending on whether your hotel is in Kisoro or Kabale. Request that the hotel/lodge staff wake you up on time and pack for you lunch, sandwich or other snack. Briefing at the park offices usually starts between 7:30am to 8am and is meant to guide you on how to act around the gorillas and what to expect.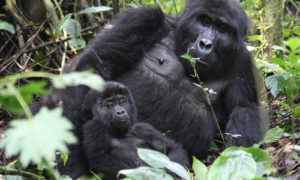 You will be dived in groups of 8 (or less depending on season) and assigned different gorilla groups depending on your overall fitness and preference. There are 10 habituated gorilla groups in the park. Be mentally prepared for the trek as it could get tiring or go on for more hours than expected depending on the location of your assigned gorilla family that day. Bring with you gorilla tracking boots, long stockings, rain coat, caps, and rain-proof pants.
Park rangers will provide you with a trekking stick and be with you throughout the tracking – Listen and follow what they have to say. porters for hire are available at about 10USD to help relieve you of the burden of carrying extra heavy luggage- so you focus on gorilla watching. You will only be with the gorillas for one hour so take as many photos and videos as you can as soon as you catch sight of them and are cleared. As soon as you are done watching the gorillas, our guide will pick you up and head for your hotel in either Kisoro of Kabale.
End of Tour
Tour Includes:
Gorilla permit (600USD)
Transport in a 4×4 safari vehicle
Lunch
Bottled drinking water
An experienced English speaking tour driver/guide
Park entry fees
Park ranger and guiding
Fuel
Tour Excludes:
Personal expenses such as beverages, crafts, cigars, souvenirs and tips
Accommodation (can be arranged on request)