An encounter with mountain gorillas is the ultimate wildlife experience. Whereas a safari to spot the big five is great, nothing beats watching mountain gorillas in their natural habitat – Gorillas are our relatives.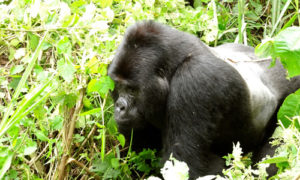 It is estimated that only about 1000 Mountain gorillas now survive in the wild – mountain gorilla permits sell like hot cake. Half of these are found in Uganda and the other half shared by Rwanda and DR Congo. Because of their small remaining overall population worldwide, Mountain gorillas are considered endangered by organizations like the International Union for Conservation of Nature.
Only about 20 percent of mountain gorillas are habituated. Mountain gorilla habituation is a two year process of allowing time for a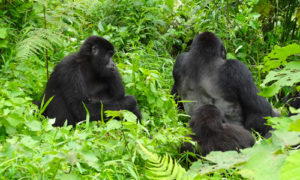 particular group to get used to humans in their midst. Non-habituated mountain gorillas are unpredictable and visitors are not allowed near them. When is the best time for gorilla trekking? Mountain Gorilla tracking involves passing through dense forest, steep hills and mud-filled pathways. Gorilla trekking and the even  more adventurous gorilla habituation experience an be done throughout the year. However the best time for gorilla trekking is just after the rainy season has ended. Around this time, the countryside and gorilla parks are still stunning green and less muddy.
How long is gorilla trekking? Depending on the gorilla family you choose, the activity may take anywhere between half an hour to 8 hours. We recommend that you prepare yourself physically and psychologically for your gorilla trekking adventure. There is a packing list and accommodation options that we usually recommend to all visitors preparing to track mountain gorillas. The guides and wardens at the different parks will usually brief you about the requirements for gorilla tracking before you head out to the forest.
After your gorilla watching adventure, remember that there are several other activities that you can engage in – For a start, there is visiting the Dian Fossey tomb to learn about her gorilla protection and conservation efforts. The gorilla parks are also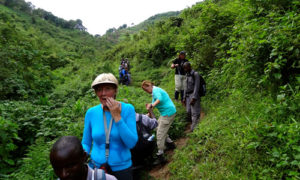 inhabited by other primates like chimpanzee, baboons and monkeys. The countries of East Africa are blessed with great tourism resources. You can go on a safari to view other animals in other national parks and reserves. If you love nature walks, white water rafting, cultural visits, bird watching and mountain hiking, East Africa is the place for you. Mission Africa Safaris has tailor made packages that combine gorilla trekking with other activities.