Our 2 days white water rafting tour in Jinja is a must do activity while in Uganda. Jinja is located in the eastern part of Uganda and 85km away from the capital Kampala. Established in 1907, Jinja is Uganda's second largest town and former industrial hub.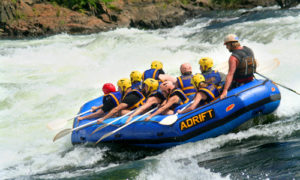 The town is located near the shores of a section of Lake Victoria where you also find the source of the Nile River – making it one the top places to visit in Uganda. The  town is  quiet, serene and relatively well planned with a lot of interesting activities and attractions such as bungee jumping, horseback riding, quad biking, boat rides, nature walks, sightseeing and of course Jinja White Water rafting to mention but a few. While on a a true Uganda safari, visiting Jinja is one place you cant afford to miss.
This two days Jinja tour and white water rafting package will give you plenty of time to enjoy the best that the town has to offer. Whitewater rafting in Jinja is a long activity that also gives you time to relax, mingle with other rafters, spot birds, enjoy the nature, watch local fishermen working on their nets or see women and children at the shores washing clothes.
The main tour activities are:
Tour of the Mabira forest
boat ride to the source of the Nile river
White water rafting
Bungee jumping
Horse riding
Quad biking
Day 1: Kampala to Jinja
A guide/driver from Mission Africa Safaris will pick you up after your breakfast at your hotel, airport or other agreed pickup location. The journey from Kampala to Jinja is full of interesting things to see – You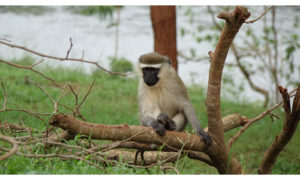 won't get bored along the way. You will stop midway to have a guided nature walk around the spectacular Sezibwa falls. Another stopover will be for a nature walk through the Mabira forest. While at Mabira, expect to spot a variety of birds and primates like the red-tailed monkey and Mangabeys. You will continue your journey bypassing the eye-catching sugar and tea plantations. Finally you will cross the Jinja Bridge at the Owen falls dam and just as you enter the town, stopover for lunch.  After lunch, tour the town of Jinja then take a boat ride to go explore the source of the Nile and the Samuka Island.  The Samuka Island is a breeding ground for several bird species. As you leave the boat, you might want to purchase souvenirs from the several craft shops along the river shores. Dinner and overnight at Jinja Nile Resort (Luxury) or 2 Friends Guesthouse (Budget).
Day 2: White water rafting, Bungee Jumping, Horse riding, Quad Biking – Departure
This will be a great day of more adventure. You will have morning breakfast at your hotel and head out for white water rafting at the Bujagali falls.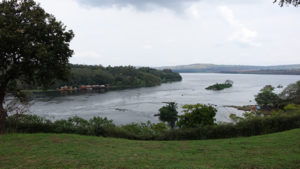 Bujagli falls provide some of the best spots for kayaking and water rafting in Africa. The rapids are 10km long as they flow down river. White water rafting in Jinja starts at 9am for the morning shift. You will join your fellow rafters to register, be briefed and supplied with life jackets, helmets and other rafting gear. After enough rafting, you will have lunch and go for quad biking, horse riding or bungee jumping -A lot of activities in this beautiful town. After all is done, the guide will return you to Kampala in the evening.
End of Tour
Tour Includes:
Airport transfers
Full time driver/guide
Any Entrance and rafting fees
Fees for any other agreed activities
Bottled water and lunch along the way
Transport in 4X4 vehicle
Full board accommodation while on tour
Tour Excludes:
International flights and Visas
Personal expenses like laundry, crafts, drinks, cigars, souvenirs and tips