A 3 Days  Murchison Falls Wildlife Safari tour Package is one of the most sought after tour packages by visitors to Uganda. Murchison Falls National Park is one of the top places to visit in Uganda.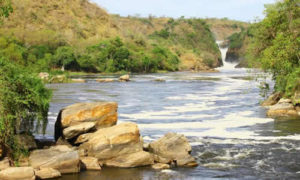 This three day Uganda safari will give you enough time to see all that the great Murchison Falls national park has to offer – including a safari to spot four of the big 5 (You will see the fifth at the Ziwa Rhino sanctuary along the way to the park). The Murchison Falls National Park started as a reserve in 1926 and now covers an area over 3800 square kilometers. The park is named after the Murchison falls located along the river Nile that flows through the park separating it into two – The southern and northern banks. The Murchison Falls drops through a 45m wall after passing/squeezing through an 8m wide gorge. The result is a thunderous roar and a great rainbow like view caused by the mist.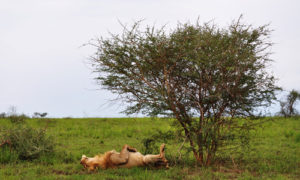 In the 1970's, Uganda's famous dictator Idi Amin Dada decided to change the park's name to Kabarega falls national park, but the name Murchison falls was retained as soon as he was removed from power. The park is arguably the best in Uganda for its location and concentration of most of Africa's famous mammals.  You will be able to spot about 76 species of mammals which include buffalo, Nile crocodiles, lions, elephants, leopards, baboons, hyenas, warthogs and several antelope species. You will also see over 400 bird species and several reptiles like rock pythons and monitor lizards. The vegetation in the park mostly Savannah grasslands but you can also find forests like Budongo that is famous for chimpanzee tracking. If you are wondering about what to pack, then you can look at the packing list for Queen Elizabeth National Park.
Stopover visit to Ziwa Rhino Sanctuary
Launch cruise along the River Nile
Hiking to the top of the falls
Day 1: Travel to Murchison Falls – Stopover at the Ziwa Rhino Sanctuary
After your breakfast, a guide from Mission Africa Safaris will pick you up from your hotel by 7:00am. The guide will brief you and share with you other vital information about your Uganda safari. You will then begin your 6 hour journey to Murchison falls national park. The countryside is teeming with farms and banana plantations. Get ready to see fruits, roasted meat/chicken, roasted cassava and bananas sold along the roadside or brought right up to your car window – if you stop.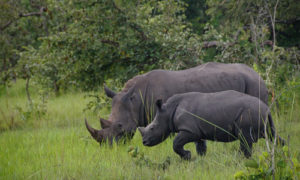 You will pass through Luwero district which was once a warzone ending with the current regimes assumption of power.  Along the way, as you are about to reach Murchison falls, you will stop-over and branch to track black and white Rhino at the Ziwa Rhino Sanctuary. Rhinoceros are among the big 5 and due to heavy poaching had disappeared from Uganda since the early 1980s. The sanctuary was set up in 2005 to breed and later introduce Rhinos to Uganda's major game parks. You will then head to Masindi district for lunch then to the Murchison falls national park to check in at your hotel.  Dinner and overnight at Paraa Safari lodge (Luxury) or Pakuba safari lodge (Mid range) or Heritage Lodge/Red Chilli (Budget).
Day 2: Game drive, Launch cruise along the river Nile and Hiking to the top of the falls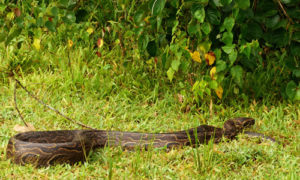 The day begins with early breakfast. At 7:00am, you will be taken for your first morning game drive (Usually along the Delta of Lake Albert) where you will finally see the parks great savannah grasslands and overlooking Budongo forest. Throughout the safari, you will be escorted by a park guide/ranger who is familiar with the area and where to find the animals. You will also see several mammals including warthogs, antelope, lions, hyenas, giraffes and primates among others. You will then head back to your lodge to have lunch, freshen up and prepare for the mega launch cruise.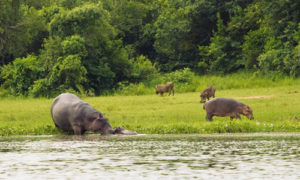 While on the cruise, be prepared to spot more than 200 bird species (Kingfishers, the shoe billed stork etc), Nile crocodiles, hippos, monitor lizards, elephants and many of the animals seen during your early morning safari drinking along the river Nile shores.  The boat slowly takes you up to the foot of the Murchison falls were you will climb to the top of the falls. You will be awestruck by these great falls with wonderful surrounding vegetation. The water from the falls generates mist which has colors of the rainbow.  After these activities, our guide will pick you up and take you back to your lodge.
Dinner and overnight at Paraa Safari lodge (Luxury) or Pakuba safari lodge (Mid range) or Heritage Lodge/Red Chilli (Budget).
Day 3: Second Game drive – Return to Kampala
You will get up early to a sumptuous breakfast and then go for another game drive in a different sector of the park. The game drive marks the end of your Murchison falls  safari. The Mission Africa Safaris guide will take you back to the lodge for  check out. By 11:30 the guide will start the 6 hour journey back to Kampala. Your safari will be crowned with lunch in Masindi from where you will continue to Kampala arriving at you hotel late in the evening.
End of Safari
Safari Includes: Full time English speaking driver/guide, Rhino tracking permit, Park fees, any ferry crossings, Boat cruise, park guide/Ranger, Hiking, Bottled water, Transport in 4X4 vehicle, all meals in-between journeys and full board accommodation while on safari.
Safari Excludes: International flights, Visas, Kampala accommodation, Personal expenses like laundry, crafts, drinks, cigars, souvenirs and tips
Bird watching
Fishing
Chimpanzee trekking in Budongo Forest