Often referred to as "land of a thousand hills", Rwanda has transformed from a country scarred by one of the worst genocides in the recent past, to a model of hope, peace and good governance in Africa. The capital Kigali has neat city streets, five-star hotels, good road networks while the countryside is characterised by beautiful rolling hills and green plantations.  The second largest city Butare referred to as "the intellectual capital of Rwanda" is hosts large institutions like the National University of Rwanda and national museum. The country's wealth has increased since embracing industrialization, agricultural modernization, mining and tourism.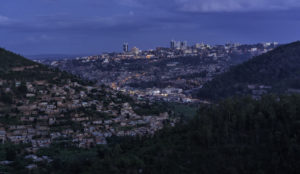 Tourism in Rwanda is well developed with several luxury lodges in the game parks. The country has gone to great lengths to market her tourism resources. However, most visitors are attracted by the possibility of seeing mountain gorillas found in the Volcanoes national park. The park was made famous by research efforts culminating into the famous drama "Gorillas in the Mist". The park itself is an expanse of remarkable green vegetation swarming with birds, butterflies, primates and other mammals. Gorilla trekking can also be done in Uganda and the Democratic Republic of Congo, but it is the quality of service and the proximity of the park to the capital Kigali that make visitors opt for Rwanda.
Major Activities to do in Rwanda
The major activities one can indulge in while in Rwanda's cities and beautiful countryside are:-
Mountain gorilla trekking at the Volcanoes National Park
Chimpanzee and golden monkey tracking
Game driving at the Akagera National Park
Biking along The Congo Nile Trail
Birdwatching in Nyungwe forest and Lake Kivu
Cultural and community visits to places like the Iby'iwacu cultural village for traditional dances
Visiting the genocide memorial centers like Gisozi, Mu

rambi, Nyamata, Bisesero and Ntarama

Hiking Mount Karisimbi and Bisoke.
Visiting the grave of Dian Fossey and her former Karisoke Research Centre
Major game parks and reserves in Rwanda
Volcanoes National Park
The park is located within the Virunga mountain ranges and is home to about 400 mountain gorillas and 10 habituated gorilla families. The park is characterized by thick forest and mountainous terrain that can make gorilla tracking strenuous but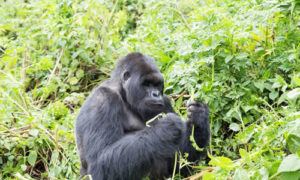 adventurous. Since Dian Fossy pitched camp in the Volcanoes national park, the country became a leader in global mountain gorilla conservation and research efforts – Visitors can arrange to see Dian Fosseys former research station and grave. Whereas mountain gorilla tracking is the main activity in the volcanoes national park, visitors can also spot forest elephants, forest hogs, golden monkeys, buffalo, birds, and several species of butterfly. The park has several volcanoes and mountains that are suitable for hiking like Bisoke, Sabyinyo and Karisimbi. Combining a gorilla safari in Rwanda with hiking one of the mountains is  tiring but worth pursuing for the adventurous.
Nyungwe Forest National Park
Nyungwe forest National Park is one of the most attractive destinations in Rwanda. Nyungwe forest is a vast tropical forest with over 1000 plant species and is a good reflection of Rwanda's exciting biodiversity. After tracking mountain gorillas, the forest is the best place to track chimpanzee in Rwanda. There are over 240 species of birds found in the forest making it a birders paradise. Apart from chimpanzee trekking and birding, visitors should expect to spot baboons, golden monkeys, colobus monkeys, blue monkeys and other primates. A Nyungwe forest canopy walk is a must for bird lovers.
Akagera National Park
The Akagera National Park is located in the Eastern part of the country and covers over 1000 square kilometers of savannah similar to those found in Kenya, Tanzania and Uganda. The park is close to Kigali and is home to a large collection of Africa's mammals that gather at its numerous water points like the Akagera River and Lake Shakani. The most common activity in Akagera National Park is to take a game drive to spot hyenas, jackals, antelopes, giraffe, baboons, zebras, buffalos, leopards and elephants among others. Lions and black rhinos are being introduced in the park so that visitors can have a full package of Africa's big five. Bird watchers should expect to Spot over 500 species that include shoebills.
Other important tourism destinations in Rwanda
Gishwati Forest
The Gishwati Forest is one of the most visited tourism sites in Rwanda and covers over 250,000 acres of land. The forest presents a great view of Lake Kivu and birders will be impressed with the over 400 resident species. The forest has suffered from massive deforestation caused by ranchers, pastoralists and refugees who had taken shelter following the 1994 genocide. Plans are underway to restore the entire stretch of land with forest just like it was in the past.
Genocide Memorial Centers
In order to appreciate the current progress made by the people of Rwanda, visiting one of the genocide memorial centers is highly recommended. The Three months genocide saw hundreds of thousands of Tutsis and moderate Hutus massacred in 1994 and sites like those found in Kigali are a constant reminder of that dark past. The mass graves, photographs, film footages and other exhibitions provide a glimpse of the country's traumatic past. Visiting the genocide memorial site is an opportunity show respect to the victims, remember lost ones and also face the reality of what happened in Rwanda.
Another centre worth visiting is the Nyamata church where about 50,000 genocide victims are buried. The church remains intact and one can still see human clothes, bones and blood stains on the church benches. Then there is the Gisozi genocide war memorial site which is built on graves of over 250000 genocide victims.
The Congo-Nile Trail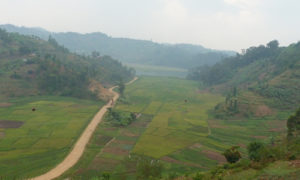 The Rwanda Development Board has made great effort in positioning Rwanda as a major tourism  destination in Africa. The government has diversified tourism opportunities in Rwanda with the opening of the Congo Nile Trail. Hiking along The Congo Nile Trail is now one of the most interesting things to do while in Rwanda. The famous trail passages through Lake Kivu and provides hikers with opportunities to marvel at the country's beautiful nature, green vegetation, hills, and clear lake waters while viewing nearby mountains.
Lake Kivu
Lake Kivu is located at the border between Rwanda and DR Congo and is one of the natural wonders of Rwanda covering an area over 2,600 km2. Flowing at about 1450m above ground, the lake is the highest in Africa. It is one of the only three lakes in the world that occasionally experiences eruptions of carbon dioxide from its depths – A phenomenon known as "exploding lake". No worrying eruption has been recorded recently and visitors should expect to see the stunning beaches, green vegetation, islands, fishing villages and ports like Rubavu. Touring Lake Kivu comes with opportunities to go hiking, bird watching, nature walks, chimpanzee tracking or boat riding.
Mount Karisimbi
Mount Karisimbi one of the highest in Africa and part of the Virunga ranges of mountains. Hiking Mount Karisimbi is one of the most popular activities to do while in Rwanda. Visitors who can endure the 6 hour ascent to the summit will be rewarded with a magnificent view of the volcanoes national park and opportunities to spot birds of different species. Visitors may opt to combine Hiking Mount Karisimbi with tracking mountain gorillas at the Volcanoes national park. Combining a Mount Karisimbi hike and gorilla trekking is a tiring venture and requires considerable fitness levels if it is to be accomplished within a few days.
Mount Bisoke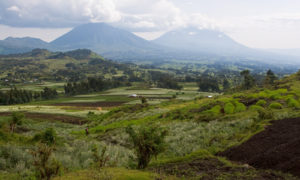 Mount Bisoke is an active volcano located on the border between Rwanda and DR Congo. For those wishing to explore Rwanda's beautiful countryside, trekking up Mount Bisoke  may just be the thing for you. Trekking mount Bisoke lasts about 6 hours with steep sections here and there, after which one is rewarded with stunning views of the Volcanoes national park. Bisoke hiking also offers visitors a chance to marvel at  the Crater Lake and the beautiful green scenery surrounding the mountain.