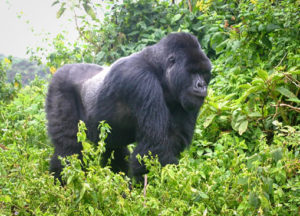 Mountain gorillas can be tracked at any time of the year because their movement is not affected by changing seasons. Visitors shouldn't be too selective on which month to go trekking. In our experience, the perfect time to track  gorillas  is just after the rainy season when the countryside is stunning green and fertile. The periods of March-April and October-November are rainy seasons – also referred to as low seasons within the gorilla tracking community.
The forests can get very muddy and tracking mountain gorillas becomes more challenging. However, mountain gorillas live in rain forests and the rains drop even during the dry season. We cannot rule out mud for any one specific month. During the low or wet seasons, visitors may get discounts for gorilla permits in Uganda and Congo. Congo's gorilla permits permits are 400USD during peak season but can be reduced up to 200USD during low season.
At the end of the day, the decision on when to go for gorilla trekking rests with the client – taking into consideration time constraints, budget, overall fitness and convenience. Some clients even find gorilla trekking during the rainy season more adventurous despite the challenges.