Are you thinking of how to book a gorilla permit.  Acquiring a gorilla permit or pass to watch mountain gorillas is one of  the most important things to consider when planning to go on a gorilla safari.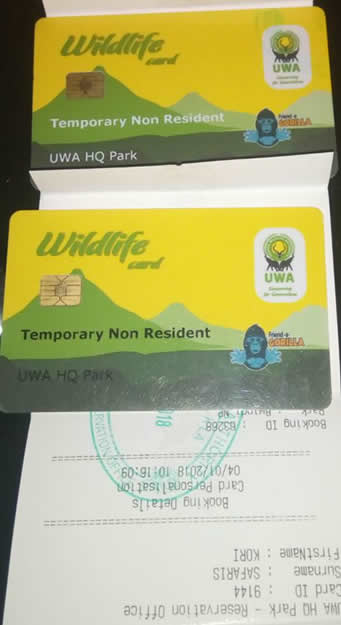 You cannot confirm travel dates without first securing a gorilla permit. All tourists must have Gorilla permits while entering the park and are advised to obtain one at least 5 months before traveling. As soon as you confirm your trip, you need to pay the gorilla permit fee in order for the company to have them secured. Booking gorilla permits particularly during the peak season can be very competitive. You can acquire gorilla permits on your own but our experience shows that travelers find the process cumbersome. Mission Africa Safaris will help you quickly get the permits and put together your entire gorilla tracking safari. We will help you organize transport, accommodation and get the gorilla permits. The cost of the gorilla permits is included in the overall cost that is shared with you. Gorilla permits cost differently for each of the three mountain gorilla trekking countries.
Rwanda: gorilla trekking in Rwanda is done at the volcanoes national park. There are 10 gorilla groups in Rwanda and a permit costs USD 1500. Gorilla permits in Rwanda are are obtained from the Rwanda Development Board offices in Kigali or Ruhengeri which is near the park. The newly hiked prices for gorilla permits has made many tourists resort to Uganda and DR Congo. From time to time we receive inquiries from visitors wish to combine Mount Karisimbi hiking in Rwanda and gorilla trekking in Bwindi Uganda.
Uganda: Tracking gorillas is done in Bwindi impenetrable forest and Mgahinga Gorilla Park. There are 12 Gorilla groups in Uganda. Bwindi has 11 gorilla families while Mgahinga has only one large gorilla family. The cost of trekking gorillas is USD 600 per day in Uganda. Gorilla permits in Uganda are obtained from the The Uganda Wildlife Authority at their Kampala headquarters. Their website is UWA issues about 120 gorilla permits per day for both gorilla families in Bwindi and Mgahinga. Should you decide to book the permit by yourself, then you need to contact UWA by email requesting a reservation with information about your dates of travel. We prefer doing the booking on your behalf especially during the peak seasons. Bwindi impenetrable forest park has several gorilla families and you permit will determine which gorilla family to track as well as your accommodation. There may be discounts in the low seasons of April, May and November – but it all depends on the number of tourist booked for the period.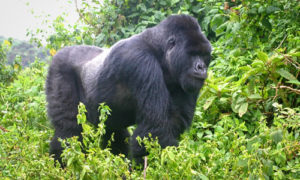 Democratic Republic of Congo: DR Congo's habituated gorilla groups   are eight in number and gorilla tracking permit costs USD 400 per day. Booking gorilla permits in Congo is done either directly in the park or using a tour operator. You will not be sent scanned copies to confirm booking like it is done in Uganda or Rwanda. The park or tour operator helps you reserve the permit based on mutual trust. There are discounts!! This information is usually shared with park officials, tour operators and others kept in the loop.  We can also help you book permits to track western lowland gorillas at Kahuzi Biega national park. Lowland gorilla  permits can be secured last minute but we recommend that you plan your booking in advance just to be sure.
Looking at the cost of a gorilla permit, one might be tempted to wonder if it's all worth it any way. Mountain gorillas are an endangered species with about 900 remaining. Mountain Gorillas are only found in Congo, Uganda and Rwanda. The experience of watching mountain gorillas is unique. The proceeds are used to fund mountain gorilla conservation efforts in the region.  The local communities and former poachers gain economically from the employment opportunities.
Requirements for  booking a gorilla permit.
15 Years and above
Your Tracking Dates depend on availability
Passport number details that should be sent to your travel operator. Gorilla permits are not transferable and you will be asked for identification at the park to check if your information details match that on the permit.
Payments are made by bank transfer or Pesapal (A payment link is sent to you).