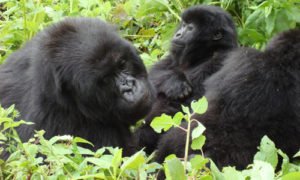 Gorilla trekking is an exciting and adventurous activity but can be tiring for the ill prepared. We believe anyone can track gorillas as long as they are prepared. We have compiled a list of what to pack during gorilla trekking and  particularly during gorilla watching experience. Always remember that using Porters is highly recommended to help you carry any extra luggage at a small fee.
Gorilla Permits and Passport: You will be required to show your gorilla permit and passport at the hotel and park offices just before beginning your trek.
Hiking Boots: High quality hiking boots will ensure better grip of the hilly and sometimes muddy terrain. Poor quality boots or plain sneakers could hurt your ankles.
Clothing: Carry with you water proof trousers, jackets, long sleeved shirts, sweaters, long socks and long trousers. The right clothing will help protect you from getting wet, sharp tree branches, the sun and insects/ants.
Gloves: To hold trees, branches and other vegetation. The gloves will also protect you from scratches and insect bites.
Headband and Hair Ties: You hair could get caught in the branches if not properly tied.
A hat, Sun glasses and sun screen: These will protect you from the suns heat especially during the dry season.
Water: Tracking mountain gorillas for long can become exhausting and you will need enough water. Your lodge will provide you with water. Avoid littering the park with plastic bottles.
Snacks or Packed lunch: Trekking for long distances could get you tired and hungry. Your lodge will prepare for you packed lunch. You can also park your own energy snacks.
Walking stick: To help you maneuver through the thick vegetation and steep areas. The sticks can be got from the hotel or through the guides.
Camera with strong battery and memory: Be prepared to take as many photographs as you can of the gorillas, beautiful park scenery and spots along your journey.
Phone simcard: Try to acquire an international call simcard.
Tip for your guides, porters and wardens (Optional): Reward them for protecting the gorillas and making your journey so comfortable. They have families waiting for them at home.
N.B Most of our tour vehicles have first aid equipment but we recommend that visitors also think about bringing the following for their gorilla tour (if applicable and possible):
Tablets for water purification
Insect repellents
Painkillers
Any of  your medications for any personal medical conditions and allergies
Medicine that reduces pain from insect bites
Medicine for flue and other colds
Medication for diarrhea and those that re-hydrate the body
Bandages, Scissors and Tweezers
Eye Drops
Lip balm and sunscreen  Scissors