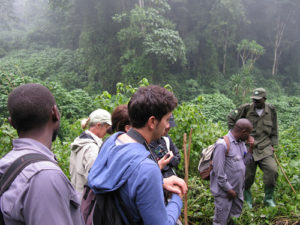 Mountain gorilla tracking is an exciting activity but requires one to be well prepared and in good physical form to make it even more memorable. We recommend that throughout the activity, visitors should follow the lead and instructions of the park wardens. We have compiled a list of things that visitors should take into consideration before embarking on a gorilla tracking mission. These gorilla trekking rules and regulations are usually shared with visitors during the briefing before the actual gorilla trek. They include:-
You must be 15 year or more to get a gorilla tracking permit.
You need to have a yellow fever vaccine to be allowed into the countries.
Foreign visitors may need a visa to enter the borders of the different gorilla tracking countries.
Listen attentively and follow what the guides tell you.
Tracking gorillas involves moving long distances searching for the gorilla families. It often involves climbing through steep terrain. You need to be reasonably fit and free of communicable diseases like flu and colds. Gorillas easily catch human diseases like diarrhea. Cough in particular affects gorillas badly. Cover your nose and mouth if you have to sneeze or cough.
Ensure you have clean hands as you head out trekking.
Always stay calm and avoid sudden movements that may irritate the gorillas.
Don't talk loudly as you trek so as not to miss opportunities to watch birds and other wild animals.
Keep the park clean and free of rubbish that could cause disease to the gorillas.
Do not eat, drink or smoke in the presence of gorillas.
Maintain a distance of at least 15 feet from gorillas to reduce risks of transmitting human diseases.
In rare cases were a gorilla charges, crouch down slowly. Don not run but let the gorilla leave on its own.
Avoid looking at the gorillas directly in the eye as they might mistake it for hostility.
While taking photos, keep calm and limit movements. Do not us your flash to avoid irritating the gorillas.
Do not attempt touching mountain gorillas.
In case you wish to go to the toilet, let the guide know at once. They will dig a hole for you that you should cover after to avoid spreading disease to the gorillas.
Putting on bright colors might attract the attention of the gorillas.
Sunglasses are not allowed while with the gorillas. Their reflection might make them come to you.