The exact number of mountain gorillas living in the jungle is difficult to estimate. As of 2016 it's believed that there could now well be over 1000 mountain gorillas living in Uganda, Rwanda and the Democratic Republic of Congo.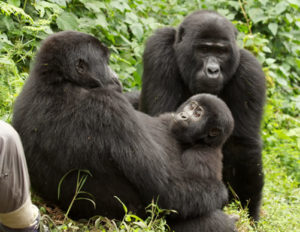 Uganda's Bwindi Impenetrable forest contains half of the world's total mountain gorilla population. The others are found in Volcanoes national park Rwanda, Virunga national park in Congo and Mgahinga Gorilla national park in Uganda.
Uganda's mountain gorillas are found in Bwindi Impenetrable Forest and Mgahinga national park. It is estimated that there are over 500 mountain gorillas in Bwindi and about 80 in Mgahinga. There are more than 35 gorilla groups living in Bwindi while the others are in Mgahinga. Most of the gorilla families remain wild and are not open to tourist.
Gorilla Habituation
The process of making gorillas acquainted to human peoples is referred to as gorilla habituation. Gorilla habituation is a process that takes about two years and ends with the gorillas getting used to human presence as they go about with their daily activities in the wild. A gorilla habituation experience is one of the most sought out activity by primate lovers while in Uganda, Rwanda and Congo. There are 12 habituated gorilla families in Uganda and only 8 people can track a particular family in a day.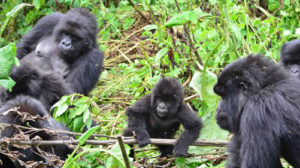 Uganda is home to 14 habituated gorilla families. About 400 mountain gorillas inhabit Uganda's forests in Bwindi and Mgahinga national parks. Bwindi has 11 habituated gorilla families while Mgahinga has one large family group. The gorilla family you choose usually determines the accommodation you book and vice-versa. Tracking a particular gorilla family is on each occasion different. The families are always on the move and rarely stay in one place for long. It is therefore difficult to determine how long gorilla tracking will take. A trek that lasts two hours on one occasion could as well take six hours the next day. With the help of your tour operator, you can track any of the following groups in Uganda's Bwindi and Mgahinga parks. Read More
Rwanda's Volcanoes national park  hosts 10 habituated gorilla families that are available for gorilla trekking. The volcanoes national park which is among the 3 national parks found within the Virunga  region. Others include Mgahinga national park in Uganda and Viruga national park in Congo. Gorilla tours involve tracking one of the gorilla families in the park. You are assigned a gorilla group taking into consideration  your overall fitness, place of accommodation and your  preferences. Some of the gorilla groups move further up the mountain  requiring more time and effort locating them.  Read More
The DR Congo is a country with great tourism potential and resources that have yet to be fully exploited. Like Uganda, DR Congo is not just about mountain gorillas. The country has great national parks with animals found nowhere else. The Congo forest is believed to contain several species of plants, birds and mammals  that have yet to be discovered by scientists. Pygmy chimpanzee (Bonobo) and Okapi are just some of the species that are only found in DR Congo. Apart from mountain gorillas, DR Congo has one of the last remaining wild habitat for the more common lowland gorillas. Mountain gorillas in Congo are found in Africa's oldest game park – the Virunga National park. Read More