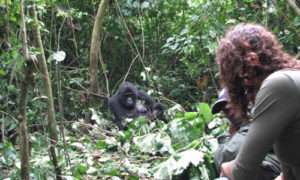 What should you expect during gorilla trekking? On the day of your gorilla trekking, our guide from Mission Africa Safaris will pick you very early in the morning from your hotel and take you to the starting point or park offices. At around 8am, you will be briefed on the gorilla trekking rules and requirements. These briefings are usually led by the head park and cover issues like not smoking, keeping a distance from the mountain gorillas and not running away if one of the gorillas charges.
The park guides will also let you know of what you need to move with to make your trek more comfortable. After the briefing, you will be assigned a gorilla family to track after taking into consideration your favorite gorilla family, your overall fitness and the location of your lodge. Second day trekkers are assigned another gorilla group.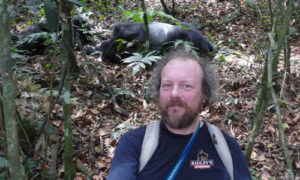 Visitors are only allowed a maximum of one hour with the gorillas in a day. This time can be shortened if the apes become restless. Only 8 people may visit a particular gorilla family in a day. After the briefing and assignment of Gorilla groups, you will then be given an opportunity to hire a porter as the journey could get tiring and go on for hours. The rangers communicate by radio and an advance group of trackers sets off earlier to find the exact location of the gorilla group. There is constant communication between your team leader and the group sent in advance. Through the advance trackers, the rangers and wardens always have an idea of where the gorillas are located and you are guaranteed to eventually see them.
Once you encounter mountain gorillas, you will be required to follow any instructions given by the guide.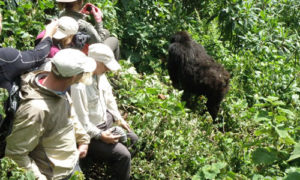 The guides know every little detail about the gorilla family group gorilla group and its members – including temperament. After completing your trek successfully, you will be given a gorilla trekking certificate at the park headquarters. A guide from Mission Africa Safaris will be waiting for you after receiving your certificate and drive you back to your lodge. Should you come back earlier than expected from your trek and are still fresh, your guide from Mission Africa Safaris will share with you other interesting activities worth exploring.