Our 3 days Mount Nyiragongo volcano hike takes you to the see the only Lava Lake where tourists can pay to visit. Mount Nyiragongo is an active volcano found at the Virunga national park in the Democratic Republic of Congo. The volano has a 2km crater that houses the world's largest lava lake. Most of Africa's recent volcanic eruptions have come from Mount Nyiragongo and the neighboring mount Nyamuragira.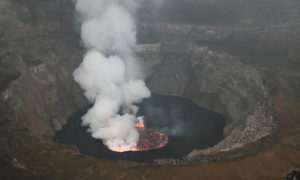 It is not clear when the volcano had its first eruption. Geologists trace its first of 34 known eruptions to 1882. There have been times when an eruption went on for years. In the 1997 and 2002 eruptions, liquid lava suddenly flowed from the volcano at great speed killing many people and displacing hundreds of thousands of residents around Goma town. Despite the lurking danger, Mount Nyiragongo is the only active volcano open to hiking in the world at the moment. Visitors will be rewarded with stunning views of the boiling lava from a safe distance. Climbing mount Nyiragongo is risky but the volcanic activities are predictable.
Day 1: Transfer from Kigali to Congo
A driver from Mission Africa Safaris will pick you up from the airport or hotel in Kigali. If you arrive early, you will have an opportunity to take a tour of Kigali with its neat streets and beautiful hills.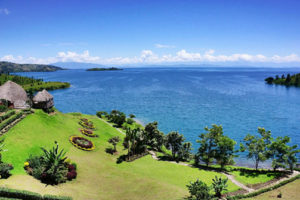 You will then visit one of the genocide memorial sites and go shopping for local crafts and fruits. The guide will then drive you to Gisenyi, the largest port in Lake Kivu for a boat cruise.  The route from Kigali to Lake Kivu will provide you an opportunity to see Rwanda's beautiful countryside – full of green tea plantations, rolling hills and smiling locals. The cruise at Lake Kivu will reward you with great views of the lake's islands and the distant Nyiragongo volcano. You will have lunch around the lake before crossing to DR Congo and then heading for Goma town.  Your dinner and overnight will be at Mikeno Lodge.
Day 2: Nyiragongo Hike
You will wake up to early morning breakfast and be taken to the park offices for registration and briefing about Nyiragongo Hiking at the Kibatsi village (The Nyirangongo hike starting point).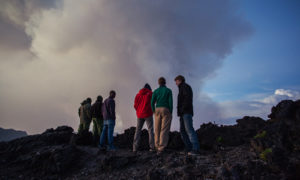 As you head towards the volcano, you will notice that the lower slopes are full of lush green rain-forest which are home to several animal, bird and plant species – Take advantage of it. You should lookout for chimpanzee, monkeys and antelope among many others. You will also notice that there is no vegetation as you head upwards which gives you good view of the surrounding landscape. Hiking mount Nyiragongo takes between 4 – 5 hours depending on the overall fitness of the hiking group (No group member is left behind during the hike). Once you are on top, you will have great views of the lava lake and overlooking Virunga region. You dinner and overnight will be at the volcano summit.
Day 3: Descend the Nyiragongo volcano and head back to Kigali.
You will rise to take breakfast and begin descending the volcano in the morning. Once you reach the base, you will go finish up business with the park officials. Our guide will then start the journey back to Kigali through Goma town.
End of Hike
Hike Includes:
Airport transfers
English speaking driver/guide
Nyiragongo Hike
Hiking package (fees, guide/Ranger)
Bottled water and lunch en route
Transport in 4X4 vehicle
Accommodation and meals
Hike Excludes:
International flights and Visas
Personal expenses like laundry, crafts, drinks, cigars, souvenirs and tips.