Hiking Mount Nyiragongo
The Nyiragongo active volcano is one of DR Congo's major tourist attractions. Located in the Eastern part  of the country and overlooking the Virunga national park, Nyiragongo volcano is one of the 8 volcanoes within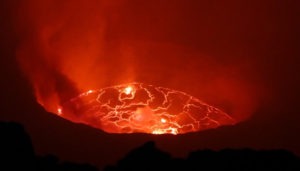 the Virunga conservation region. The other volcanoes include Mount Karisimbi, Mount Bisoke, Mount Muhabura,  Mount Sabyinyo, Mount Mikeno,  Mount Gahinga and mount Nyamuragira. The Nyiragongo volcano rises at 3470 meters offering a medium hike to the top of the volcano approximately 5 – 6 hours.
Being one of the world's largest active volcanoes, the Mount Nyiragongo volcano lava lake is very intriguing  and impressive. Mount Nyiragongo hike tours  were opened to tourism in 2014 by the Virunga National Park authorities. Visitors usually combine mountain gorilla trekking and hiking the Nyiragongo volcano  Those who are looking for a unique and once in a lifetime mountain hiking adventure will find the answer in hiking Mount Nyiragongo. It is the only place in Africa were visitors are allowed to go and see a lava lake up close.
How to reach Mount Nyiragongo
Mount Nyirangogo can be reached from several areas but for security reasons, it is safer through Gisenyi town in Rwanda. From Gisenyi,  visitors will be driven for 20 km to the border between Rwanda and DR Congo before crossing to Goma.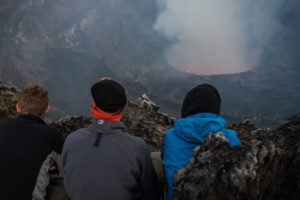 From Goma town, a great black rock is visible which is a  reminder of the volcanoes last eruption in 2002. The lava that once flowed at great temperatures has now cooled to leave a black rock. After Goma, you will be driven to the head trail at Kibati village. You will be briefed on what to expect before starting your Mount Nyiragongo volcano hike.
Overnight on top of the Nyiragongo volcano
12 summit cabins are provided at the top of the volcano each comprising of 2 single beds where hikers can put their sleeping bags. The cost of an overnight at the summit  is included on the permit fee. From the cabins you can smell the boiling and bubbling lava.
The cost and requirements for getting a Congo Visa
Nyiragongo hiking permits are obtained from the Virunga National Park. A single Congo tourist entry visa costs $105 per person. This single entry visa is valid for 14 days from the day of entry. You need to first secure the hiking permit before applying for a Congo Visa. Once bought, Nyiragongo Hiking permits do not attract a refund.
Packing List for  hiking mount Nyiragongo

A rain jacket
Suitable hiking boots
The temperature on top of the volcano goes below freezing. Come with warm clothing – sweater, jacket, rain resistant pants, long underwear, warm socks and hat.
Come along with a warm sleeping bag
Carry along packed lunch and enough drinking water
Hire a porter at the base of the volcano – 15USD per day to carry your backpack
What is provided at the cabins?
Snacks, hot dinner, breakfast, water and sleeping bags.
N.B: The most suitable accommodation while in Nyiragongo is the Mikeno Lodge which is near the foot of the volcano.