One thing needs to be made clear –  mountain gorillas look the same in all three countries. There is nothing like cuter or bigger here or there. Comparing gorilla trekking in Uganda, Rwanda and Congo is meaningless because gorilla trekking in each country has its advantages. The parks have similar management systems in place and work closely to coordinate conservation related projects. Mountain gorillas sometimes move between the four parks found in the three countries. The main difference in our opinion is the experience you get while tracking in each of the countries.
Rwanda: We recommend Rwanda for those visiting for a short while and with a tight schedule. The volcanoes national park in Rwanda is much easier to access from the capital – only three hours drive on excellent roads. Some might claim that tracking gorillas in Rwanda is less strenuous and time consuming because the park is smaller and gorilla families are easier to find – but it all depends on which gorilla group you get assigned.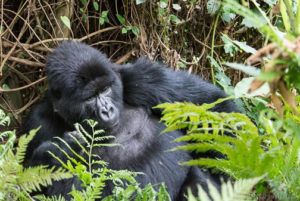 Others might even argue that the predominantly bamboo forests at the volcanoes national park of Rwanda allows for taking better photos unlike the denser forests of Uganda. There are even those who might conclude that thee services at the Volcanoes national park are delivered more professionally – but again that is subjective and open to debate.
When comparing safaris in the three countries, it's important to note that in comparison to the other countries, Rwanda has dedicated a lot of resources to marketing her tourism destinations – Something Uganda and Congo can learn from as they have far much more to offer. Rwanda's recent increase of gorilla permit prices from 750USD to 1500USD has made it a less appealing destination for visitors on tight budget.
Uganda: Uganda's advantage is that it has a variety of tourism destinations and other things on offer. We recommend Uganda for those who have time to spare and wish to combine a true African safari alongside gorilla watching. Uganda has more gorillas and habituated families than any of the other countries.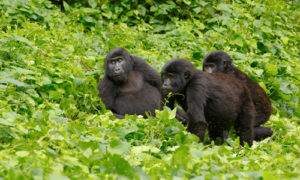 There is a belief that gorilla tracking in Uganda is more strenuous because Bwindi Impenetrable forest is vast giving room for gorillas to go deeper into the forest. But in reality, it all depends on which gorilla family you choose. Uganda has some habituated gorilla families living just next to the park lodges. Uganda's gorilla permits cost 600 USD which we think is quiet affordable.
Uganda's major disadvantage as a gorilla safari destination perhaps lies on the long distance from the capital Kampala to Bwindi and Mgahinga gorilla parks – about eight hours drive. However the journey is full of interesting things, spots and beautiful scenery compared to the 3 hour journey from Kigali to the Volcanoes national park in Rwanda.
Uganda is better choice for those staying longer and wish to see more of the wildlife and nature than just the mountain gorillas. Uganda is an English speaking country and the locals speak very good English. Uganda also has more affordable lodges that are located right inside the park unlike Rwanda whose lodges are in nearby towns like Ruhengeri.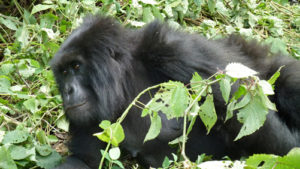 Congo: Bad press and occasional insecurity has kept many visitors from visiting Congo but make no mistake – It is only in Congo that you will get a true sense of visiting the real Africa as it used to be far from the growing modernization. Virunga national park is one of the most stunning parks in Africa and has some of the best lodges in Africa. Gorilla Permits to Congo sell at only 400USD with possible discounts during the low season.
Visitors to Virunga national park also have a chance to hike mount Nyirangoro  and see the famous boiling crater after gorilla trekking or go on a safari in the same park. Virunga National Park has the only mountain gorilla orphanage in the world – Senkwekwe Gorilla Orphanage that can be visited after a trek.
In a nutshell, all countries have their strength and weaknesses and offer different experiences. Some visitors want to have a taste of all three. They go tracking in Uganda then head to Rwanda and Congo. So why not just track gorillas in all three countries? We hope the information shared will help you make an informed decision. Whatever choice you make, Mission Africa Safaris will be there to help you make the most of journey.