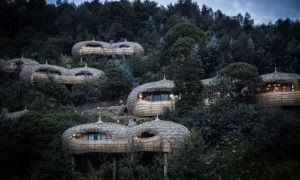 Finding accommodation during gorilla trekking safaris  is one of the things worth considering very early in the planning phase. The sheer number of lodges and hotels found in and around the gorilla parks can cause one a selection headache. As a company, Mission Africa Safaris has the knowledge and experience dealing with the numerous accommodation sites in the different parks. We are in a better position to help you select and arrange your accommodation during gorilla trekking. Off course you can make your own bookings and you need to know the different categories, types and characteristics of the accommodation available.
Accommodation Differences and Characteristics
Types of Accommodation in Rwanda Uganda and Congo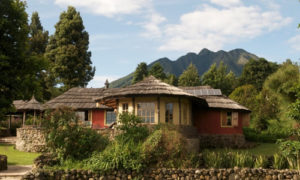 Luxurious lodges/hotels/camps: Comprise of beautiful views, private balconies, swimming pools, beautiful views as well as private facilities including en-suite bathrooms and toilets.
Mid-range (Deluxe) hotels and lodges: Comprise of very comfortable accommodation with beautiful views, private bathrooms and toilets.
Budget (Basic) Hotels and lodges: These offer descent accommodation but with limited facilities. Some of the facilities have private bathrooms and toilets, but this is not guaranteed. Many budget accommodations have shared facilities.
Hotels  and lodges in for gorilla trekking in Rwanda, Uganda and Congo
Mount Gahinga Lodge in Uganda: Is a luxury lodge found in Mgahinga National Park in Uganda. It is a perfect place for those intending to track mountain gorillas, golden monkeys and chimp-anzee.
Mantana Luxury Tented Camp in Uganda: Is located at Lake Mburo National Park along the way to Bwindi Impenetrable Forest National Park. Visitors to Bwindi impenetrable forest love to stop here for the night before or after watching gorillas in Bwindi.
Buhoma Lodge in Uganda. The lodge is built by local craftsmen using local material and is located near the main gate to Bwindi Impenetrable Forest.
Clouds Lodge, Uganda: Is a stylish luxury travel lodge built on high ground with a great view of the Virunga Mountains. The lodge has won many international awards for quality of service.
Bwindi Lodge in Uganda: Bwindi Lodge is one of the best luxury lodges in the area. It offers great views of the beautiful scenery and mountain gorillas usually come right at the lodge compounds.
Mikeno Lodge in DR Congo: Mikeno is one of the best lodges in Africa and is built to near perfection right at the Virunga Park headquarters. The lodge offers a stunning view of the Nyiragongo Volcano.
Bisate Lodge in Rwanda. This is a luxury lodge that comprises of six forest villas made of woven and other local material. The lodge is extremely comfortable and is built to blend with the natural surroundings. Visitors to the lodge have a great view of the nearby volcanoes.
Virunga Lodge in Rwanda: Is perhaps the most known lodge in Rwandas volcanoes national p-ark. It offers great views of the volcanoes and Musanze valley.
Kinigi Guesthouse in Rwanda: This budget guesthouse is found in Ruhengeri at the bottom of the Sabyinyo volcanic mountain. Kinigi Guesthouse has over 40 rooms including a few for VIPS. The guesthouse was founded as a non-profit organization and supports projects related to widows and orphans.
Sabyinyo Silverback Lodge in Rwanda: Located in Musanze district near the gate to the Parc National des Volcans, this lodge is strategically located for gorilla tracking. The lodge offers great views of the volcanoes.