Mountain gorillas can be found in four national parks – the Volcanoes National Park in Rwanda, Virunga National Park in DR Congo, Mgahinga Gorilla National Park and Bwindi impenetrable forest in Uganda. Uganda hosts half of the remaining mountain gorillas and is the only country where mountain gorillas can be found in two different national parks.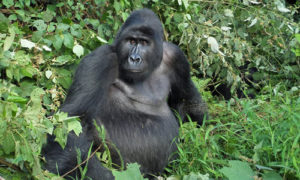 Located in Southwestern Uganda, Bwindi impenetrable forest National Park has the highest population of mountain gorillas in the world and is arguably the best place to track mountain gorillas. A UNESCO World heritage site, the park is called impenetrable because of the extremely thick tree canopies common in the forest that prevent sunlight from penetrating to the ground.  There are 12 habituated gorilla groups in Bwindi which is the highest anywhere. The park is located near some of the best tourist attractions in Uganda such as Queen Elizabeth national park making it possible for visitors to combine gorilla safaris with spotting of the big five. A gorilla permit in Bwindi costs $600 which is less than the $1500 charged in Rwanda. Congo gorilla permits are the cheapest at $400 each but the instability in DR Congo has made gorilla tours to Uganda more budget friendly and convenient.
Bwindi impenetrable forest park itself is not just about the gorillas. Visitors to Bwindi can also go visit to the Batwa pygmy community, take forest walks, birdwatching and viewing other primates like Chimpanzee. Talking about chimpanzees, Bwindi is the only National park in the world where mountain gorillas and chimpanzee can both be found. It is therefore possible to meet the chimps along the way as you track the gorillas.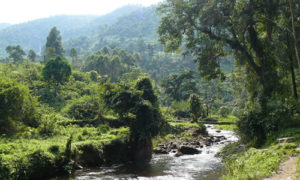 Bwindi impenetrable national Park is divided into four main sectors – Rushaga, Nkuringo, Buhoma and Ruhija.  The Rushaga and Buhoma sectors have the most number of gorilla groups and are the most popular area for gorilla tracking.  Visitors who are interested in a gorilla habituation experience can do it from Rushaga.  The gorilla habituation experience allows visitors to study a particular gorilla group more closely for four hours under the guidance of researchers and experienced trackers. The two gorilla families undergoing habituation are the Bikyingi and Bushaho groups that could be already open to visitors as I write. Whereas a gorilla permit costs $600, gorilla habituation experience costs $ 1500. Only four permits are issued for gorilla habituation experience daily.
Gorilla Trekking in Bwindi
Gorilla watching in Bwindi is done throughout the year but the peak season and best time to visit is during the dry seasons of December to February and between June and August. The wet season is in March to May and October to November. Tracking gorillas during the rainy season is more challenging because of the overgrown forest vegetation and muddy trails. However visitors shouldn't be discouraged coming in the rainy season. Bwindi is a rain forest – some rain should be expected throughout the year. The rainy /low season attracts discounts for gorilla permits and less crowds in the park giving visitors a more intimate time with the gorillas and guides. There are both one day gorilla safaris to Bwindi and two day Bwindi gorilla safaris. One day gorilla safaris to Bwindi is designed for those on a busy schedule and desire to quickly spot the gorillas after a workshop. Those who have more time can choose the two days Bwindi gorilla tour  package.
Bwindi impenetrable forest national Park can be reached by air through Kajjansi or Entebbe or by road from Kampala and Rwanda. The road journey from Kampala takes about 6 hours while a flight takes at most 2 hours. Some travelers avoid the long journey by road from Kampala by arriving from Kigali wihich is only 3 hours.  You will be required to show your passport and gorilla permit once you reach Bwindi forest park. More than 70 people visit Bwindi on a given day to see the gorillas.
Gorilla trekking in Bwindi starts with a briefing at the Buhoma park headquarters at around 7am. Visitors should sleep early before the day of tracking and wake up by 5am to take breakfast before starting the journey from your lodge to the park office. After the briefing at the park office, trekkers are separated into smaller groups of 8 with each group following a different gorilla family. Some of the groups might start tracking the gorilla family near the park offices while others will need to be driven to starting points in one of the four sectors of the park. The park guides from the Uganda Wildlife Authority, two armed rangers and porters move with each group. The guides are very experienced, knowledgeable and well trained. They are willing to share information about each of the gorilla group members and Bwindi forest in general.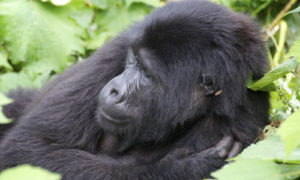 The time taking tracking gorillas in Bwindi depends on the gorilla group one is assigned which is only known during briefing. Some groups can take only 30 minutes to locate while others can take hours. A team of trackers normally goes ahead of the group to identify the location of the family and inform the lead guide by radio call of the location of the gorilla group. Trackers know where the gorilla group last built their sleeping nests and will head to that direction. There is no guarantee of seeing the gorillas but its rare not to see the gorilla family you are assigned. There have been a few cases where the gorilla family heads too far into the forest that the activity is cancelled to allow visitors get back to their hotels before it gets dark. But again, this is extremely rare.
Once you spot the family, you will be allowed only one hour with them – so that they don't start getting uncomfortable. Watching gorillas can be an extremely emotional event as gorillas behave like humans and share about 98 percent of our DNA. Take your time to observe their behavior and different personalities while taking some great photos for your memories. Follow the rules and regulations for gorilla tracking such as not smoking or eating within sight of the gorillas. Do not run away when a gorilla charges at you – lie down with your heads down as a sign of submission.
Other activities in Bwindi Impenetrable Forest Park
Bwindi impenetrable forest park is a UNESCO world heritage site for its great diversity in flora and fauna – The Park is not just about gorilla tours. Visitors to Bwindi can get involved in several other activities which could include any of the following:-
Visiting the Batwa pygmies: To see the original people who lived in Bwindi forest for thousands of years – but have now been evicted from the forest and resettled outside the park. Visiting the Batwa pygmies is a great opportunity to learn about their culture and get involved in some of their cultural activities like the traditional dances while listening to stories about how they used to hunt and gather fruits in the forest.
Primates watching: In the whole world, it is only at Bwindi forest that Mountain gorillas and chimpanzee can both be sighted. During gorilla tours in Bwindi, visitors will come across chimpanzees and baboons along the way. Other smaller primates that can be sighted on a primate safari in Bwindi include Bush babies, Blue Monkeys, Red-Tailed Monkeys, L' Hoests Monkeys, Ververt monkeys and Colobus Monkeys.
Wildlife viewing: Gorilla tracking may be the top attraction in Bwindi impenetrable forest National Park but other wild animals can be spotted including Forest elephants, Leopards, Bats, Jackals, Forest Duikers and Giant Forest Hogs.
Birdwatching: Bwindi forest is one of the best birding destinations in Africa and is a birders paradise with over 330 bird species.
Cultural activities: Such as Buniga Forest walk, village walks, visiting homes of locals and buying local handcrafts crafts.
Accommodation in Bwindi
Gorilla safaris in Bwindi impenetrable forest park involve choosing the right accommodation. There are several luxury and budget accommodation options available. The final choice depends entirely on your personal choice, preference and budget. The luxury lodges can go as high as $900 while the budget ones can go as low as $80.   Lets briefly klook at some of the major hotels and lodges:-
Ruhija Gorilla Friends Resort and Campsite: They provide budget, midrange and luxury rooms. There are standard rooms, tents and campsites. Travelers can walk directly from the lodge to the park offices for briefing.
Volcanoes Safaris Bwindi Lodge: Located near the entrance of the park offer nice looking beds and massages. It takes just ten minutes to reach the park entrance while walking.
Nkuringo Bwindi Gorilla Lodge:  Is a budget friendly lodge with an opportunity for birdwatching within the vicinity of the lodge.
Buhoma Community Campsite: Ideal for the budget traveler with spacious self-contained rooms.
Buhoma Lodge: Is located within Bwindi forest park and offers stunning views of the game park.
Silverback Lodge: Is found in the Buhoma sector of Bwindi with self-contained luxurious and midrange rooms. The lodge organizes outdoor activities such as nature walks to nearby communities for interested visitors the day before or after tracking the gorillas.
Clouds Mountain Gorilla lodge: Is located in the southern part of the park with eight self-contained eight stone bedrooms decorated with local artifacts and a fireplace.
Gorilla Forest Camp: Very conveniently located next to the park entry. The Campsite has over 7 tents with individual bathrooms that are raised and supported by wooden platforms.
Mahogany Springs: As the name suggests, is built out of Mahogany and offers luxury accommodation facilities including a presidential suit overlooking the beautiful Munyanga river and Bwindi Forest.
What is the cost of gorilla trekking in Bwindi?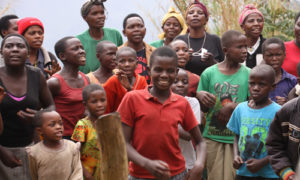 Every traveler intending to come to Bwindi for gorilla tracking has thought about how much the trip would cost. For a start, a gorilla permit costs $600 which is far less than the $1500 charged in Rwanda. Part of the money collected from selling gorilla permits is channeled to gorilla conservation and supporting local programs aimed at improving the condition of local people living near the park. By paying for the permits, you help in conserving the gorillas and also give back to communities like the Batwa who have been affected by gorilla conservation activities and actions by the government.
Gorilla permits are on high demand and need to be booked months in advance to be sure especially if you are intending to travel during the peak season. You also need to be aware of which sector you would like to visit. Apart from the gorilla permit, you need to budget for transportation, accommodation and VISA costs. When all is included, the total cost of a gorilla safari in Bwindi is about 1000USD for budget and between 1400 USD to 1900USD for luxury gorilla safaris. Gorilla permits can be acquired from the Uganda Wildlife Authority offices in Kampala and at the park itself. It is possible to organize your gorilla safari yourself and come to Bwindi driving your own car. However, based on our own experience, we recommend using the services of a good tour company like Mission Africa Safaris to organize your trip.  Tour operators are aware of potential discounts, available permits for no shows and will help you select/book the right accommodation (near the park), transportation and food among others.