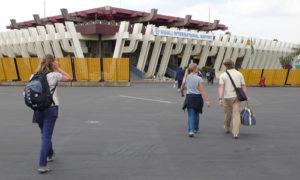 The journey to see mountain gorillas in the wild usually starts with selecting a tour company of your choice. Visitors who choose Mission Africa Safaris usually book their own flight to either Kigali in Rwanda or Entebbe in Uganda. Traveling from the main airport to the park may involve long driving hours depending on which country you are planning to visit. You may need a 4X4 vehicle to navigate certain parts of the roads – especially as you get closer to the park.
Rwanda: Our guide will pick you from the airport in Kigali. You might sleep in Kigali for the night before heading towards the park. The journey from Kigali to the Volcanoes National Park usually takes about 3 hours. Most Lodges in Rwanda are located just outside the park in the town of Ruhengeri. The roads in Rwanda leading to the park are smooth and made of tarmac.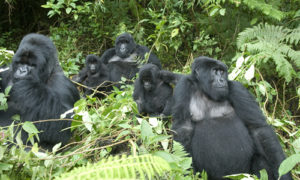 Congo: Visitors to Congo usually pass through Rwanda. Depending on what time you reach Rwanda, our guide will pick you at Kigali Airport, drive you to your hotel or continue straight to Congo. The journey to the Congo border takes about 4 hours. While at the border, you will need to show your passport, yellow fever vaccine and other required documents. You will then be driven to your hotel to rest and prepare for your trek. The roads in Congo are not smooth and can be very rough depending on which season of the year. A 4X4 vehicle is a must.
Uganda: The journey to Uganda's Bwindi impenetrable forest takes eight hours from Kampala. A guide from Mission Africa Safaris will receive visitors from Entebbe Airport and drive to your hotel in either Entebbe or Kampala. The 8 hour journey usually starts in the morning and will involve stops along the way to view some trading centers, towns and even wild life. Reaching Mgahinga Gorilla park takes an extra one hour.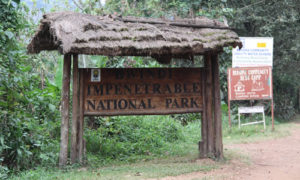 Our clients are usually captivated by the rolling hills and extremely green scenery as you pass by Kabale and Kisoro. Because of the many game reserves and parks in Uganda, most visitors to Uganda combine gorilla watching with game drives to Queen Elizabeth national park or Murchison Falls National park among many others. To avoid the long journey from Entebbe to Bwindi and Mgahinga gorilla parks, some visitors cross from Rwanda, do the trek and then go back through Rwanda's Kigali Airport.
Note: Some visitors come with the intention of tracking mountain gorillas in all three countries. From time to time, we organize safaris for clients who stop in Kigali Rwanda, track gorillas at the Volcanoes National park and then cross over to track Uganda's gorillas in Bwindi. If that is the case, the routes and time taken between the different countries vary and this is communicated to clients in advance.