Rwanda is considered by some as the best destination for a gorilla safaris. The Volcanoes national park in Musanze is home to the highly sought but endangered mountain gorillas. Mountain gorillas are found in only 3 countries – Rwanda, Uganda and the Democratic Republic of Congo. They are also the only countries where tourists can watch mountain gorillas in the wild. Gorilla conservation initiatives and related tourism were pioneered by Dian Fossey to save the critically endangered mountain gorillas. Had it not been for the considerable income earned from gorilla tourism, these mighty apes would be on the verge of extinction.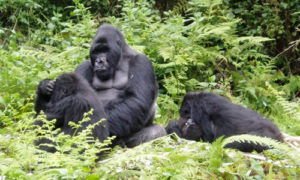 Mountain gorilla trekking at the Volcanoes National Park involves hiking up a  steep volcano through dense bamboo jungle in search of one of  the gorilla families in Rwanda. To have the best of both worlds, visitors can also go on a gorilla safari in both Uganda and Rwanda also known as double gorilla trekking. Tracking gorillas is challenging but being able to finally see the gorillas is the ultimate wildlife experience.
One must book a Rwanda gorilla permit in advance, so as to get a spot for gorilla tracking on a given date. Gorilla permits in Rwanda currently go for $1500 which partly goes to support gorilla conservation efforts and to development programs designed for the local community. There are 10 gorilla families available for trekking and only 8 people can visit a particular gorilla group in a day. This implies that there are only 80 gorilla permits available per day.
A gorilla safari in Rwanda offers you 8 habituated groups/ families to choose from. It's important to select one based on fitness. Watching mountain gorillas is breath taking. You could spend hours just watching the little ones roll around and play. Mountain gorillas are always playful and quite curious about humans to a point of  coming close. While with the gorillas, its important to listen to instructions from your guides and always stay calm. Never make sudden movements.
What to wear during gorilla tracking in Rwanda

You will need suitable hiking boots
Thick cotton gloves
A raincoat
Note: Hire a porter or two if you have extra heavy luggage or equipment. Porters are available at the starting point. Though helpful and friendly, many were once poachers but have now embraced gorilla conservation programs. The income earned from offering their services keeps them from going back to their former vice.  The services of porters costs between 10USD to 15USD.
How to prepare for Gorilla Trekking in Rwanda

Prepare in advance physically and mentally
Acquire suitable footwear to navigate the sometimes challenging terrain.
Come knowing it may rain heavily
Pack enough drinking water and light snack
Give tip to the park rangers and guides – They do a lot to make your gorilla tracking adventure worthwhile. The recommended tipping rate is $10 or its equivalent in the local currency.
Note: Many visitors to Rwanda love combining gorilla watching with golden monkey tracking, cultural visits and  a hike to one of the volcanoes within the volcanoes national park – especially mount Karisimbi and Bisoke. Combining a hike to mount Karisimbi with gorilla trekking would require considerable determination and fitness to complete.