Our 3 Days Mount Karisimbi Hiking tour is designed for those who love mountain climbing and the adventurous opportunities that come with it.
Mount Karisimbi is found at the border between DR Congo and Rwanda. At 14,787 ft, it is the highest of the mountains found within the Virunga ranges. It is surrounded by mount Mikeno, Bisoke and Nyiragongo. The mountain was formed as a result of earth movements along the East African Rift Valley and climbers can see snow on top of the volcano during the dry seasons. Climbing mount Karisimbi may not require advanced climbing skills but one needs to be in top shape to endure the strain that comes along with two days of hiking. Once on top, hikers should expect to behold great views of the greater Virunga ranges and beautiful landscape.
Day 1: Kigali city tour and travel to the volcanoes national park
Day 2: Day 2: Hiking the Karisimbi volcano
Day 3: Reach the summit, Descend and travel back to the airport or hotel
Day 1: Kigali city tour and travel to the Volcanoes National Park
Have morning breakfast at your hotel. An English speaking guide from Mission Africa Safaris will meet you early in the morning and share with you vital information about the Hike.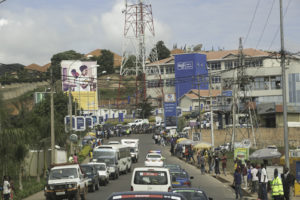 You will then be taken for a tour around the city of Kigali. Kigali is relatively small compared to other neighboring African capitals but charming, neat and well organized. The city has several hills, modern roads, beautiful street lights and interesting suburbs. You will learn about the history of the city and visit the presidential palace. You will be taken to visit the Gisozi genocide memorial center and do some shopping of local art/crafts.  Lunch will be in Kigali after which, you will head for the volcanoes national park. Along the way you will see the full scale of Rwanda's beautiful countryside that is characterized by rolling green hills, beautiful plantations and smiling locals. Dinner and overnight at Mountain gorilla view lodge (Luxury) and Da Vinci lodge (Midrange).
Day 2: Mount Karisimbi Hiking.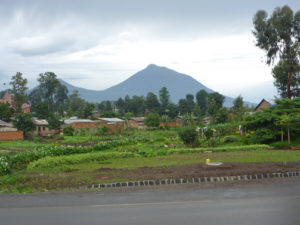 You will wake up to take breakfast and be driven to the park head quarters in Kinigi. At Kinigi, you will be registered along with other Mount Karisimbi hikers at around 9:00am. After registration, you will be assigned mountain guides before being driven to the starting point. You will be briefed on the rules and requirements of hiking. The actual hike starts at around 10:00am. Come with packed lunch and dinner (can be arranged in advance). You must bring along camping gear, hiking gear, drinking water, a walking stick and hand gloves. You will start by climbing the edge of the volcano, then go through the ridges, bamboo forests, calderas and steep sections. Instead of heading straight for the summit, you will stop midway to take a rest. A camp will be set up were you will have dinner and sleep for the night.
Day 3: Reach the Mount Karisimbi Summit and Descend thereafter.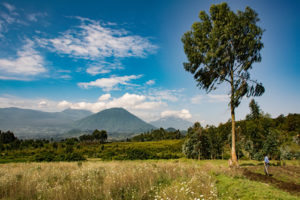 After the previous days rest, you will wake up early morning to begin the summit climb. This takes between 3-4 hours. Once on the summit, you will be treated to spectacular views of the Nyamulagira and Nyiragongo active volcanoes, dense forests, beautiful landscapes, surrounding communities and the greater Virunga ranges. You will then begin your descent back which will take the remainder of the day. Late lunch will be at Kinigi were you will meet our guide to prepare for your return trip to your hotel in Kigali or airport for departure (this depends on your airport departure time and accommodation arrangements).
End of Hike