Chimpanzee habituation experience and  tracking takes place all year round. However the best time to track chimpanzee is during the rainy season despite the mud. During the dry season, chimpanzee like to move deeper into the forests looking for food. During the rainy season, the forests are green and full of fruit reducing the mobility of the chimpanzee communities.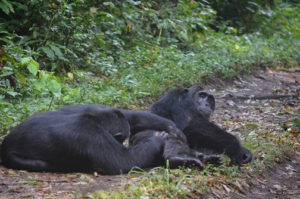 Visitors can easily locate them without having to trek for long distance. It is always recommended that visitors book their chimpanzee permits months in advance. There is a limit to how many people can track a particular chimpanzee community each day and this depends entirely on which place you go tracking in Uganda or Rwanda. However in most cases, it's 6 people per community in a single session. Chimpanzee tracking usually starts in the morning with briefing from a guide. Visitors cannot go out to the forest by themselves and must be led by a park guide or ranger. The rangers know where to find the chimp communities by following clues left behind. Moreover, habituated chimpanzee can identify the familiar faces of the guides which make them  reassured. In most of the parks and reserves where chimp visits are open to tourists, there are two sessions of tracking – in the morning and afternoon. The chimps are more active during the morning session as they head out feeding and hunting. In the afternoon, many of the members are resting and grooming each other as they try to find shelter to avoid the suns heat.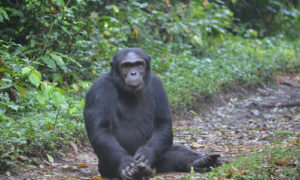 While on a chimpanzee trekking session, expect to be escorted by armed rangers/guards. The rangers scare off other wild animals like Buffaloes and elephants that may pose a danger to visitors by shooting in the air. The guides may also start by looking for them around the area that they built their last night nest. Tracking chimpanzee can go on for hours depending on the season and which park you are going to. However getting their exact location isn't difficult like mountain gorillas that are relatively quiet with occasional barks from the dominant male. Chimpanzees are very stubborn, unruly and noisy. Trackers locate them by their hoots and loud barks. Once you locate a community, prepare to continue following them for a long time through hills, dense forest and vegetation – often at high speed. Be careful of falling fruit and urine from the chimps. The chimps may take a while before descending from the trees and settling down on the ground – be patient. Once they are on the ground, you will get several opportunities to take good photos and observe their individual behavior and character well.
Chimpanzee habituation Experience in Uganda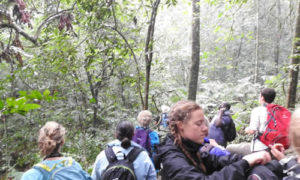 Chimpanzee habituation is the process of allowing wild Chimpanzee get used or accustomed to human presence around them through, prolonged/continuous and sustained visits led by experienced researchers and park guides/wardens. According to information from the Wildlife Conservation Society, the habituation process can take up to two years before the chimpanzees completely get used to people around them. Wild chimpanzee will flee away or treat humans suspiciously. The price for chimpanzee habituation experience is only slightly higher than normal chimpanzee habituation experience and hence provides better value for money. Unfortunately chimpanzee habituation experience is currently not possible in Rwanda. In East Africa, It can only be done in Uganda's Kibale National Park and Tanzania.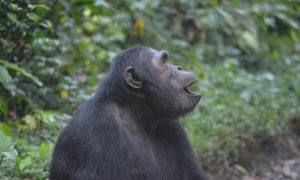 Unlike normal tracking of chimps, during chimpanzee habituation experience, visitors spend the whole day following these amazing creatures. Chimpanzee Habituation Experience is more demanding and visitors are involved in all habituation related activities unlike the 4 hour trekking where visitors remain distant. Visitors must wake before the break of dawn to meet the guides and go looking for the chimpanzees before they leave nests. In this way, you will be able to watch them wake up and prepare for the day's activities like feeding, resting, taking care of their young, protecting their territories and finally building their nests on top of trees. Lunch is usually provided because the experience goes on for the whole day. By the end of the experience, you should be familiar with all the individuals including their body markings and personalities.  The exercise ends once the chimps go into their nests for the night.