Kibale National Park in Uganda lies at an altitude of 1,590m and 1,100m above sea level and is located in the Western part of the country along the East African Rift Valley near the Ndali Kasenda crater. Kibale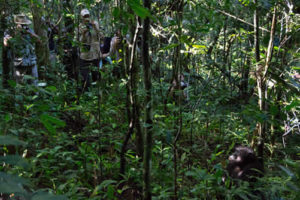 National Park was first identified as a forest reserve in 1932 because of its great bio-diversity before finally being made a game park in the 1990's. The park has become the primates' capital of Uganda and to a great extent East Africa.  The numerous tree species (over 350) that spread along the vast plains and plateaus include pre-montane forest that are found nowhere in East Africa. The park also has montane and lowland forests that include endangered species like lovoa swynnertonnii, cordia millenii and entandrophragma. The tall trees that stand at an average of 55m bring over 1700mm of rainfall annually facilitating the group of dense ferns, herbs and grasses.
The main Attractions and activities in Kibale Forest
Chimpanzee Trekking and spotting other primates: Kibale national park is arguably the best place to go for a primate's tour. The park might not have the gorillas but has more of the other primate species than any park in East Africa. Kibale Forest is the best place to go for chimpanzee trekking in the world. Chimpanzees are an endangered species and are special because they share over 95% of their DNA with humans. Kibale has the largest chimpanzee clans in East Africa and about 5,000 individuals have been recorded. Chimpanzees can be spotted in other parks in East Africa but the chances of seeing them are slim compared to Kibale Forest.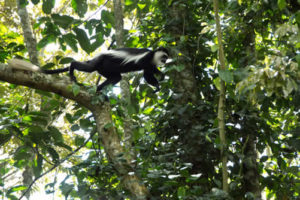 What makes a primate safari in Kibale Forest National Park even more special is its amazing collection of monkeys. While in Kibale Forest expect to see L'Hoest Monkeys, the endangered Red Colobus, Grey Cheeked Mangabey, the Red tailed Monkeys, Bush Baby, Blue Monkeys, Vervet Monkeys, Olive Baboons, Black and White Colobus. Since the park is close to Bwindi Impenetrable forest and Queen Elizabeth National Park, primate lovers can expect a complete African Safari without travelling for long a distance.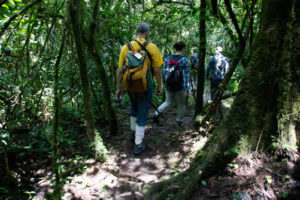 Birding: Uganda is considered to be one of the best place three places to go birding in Africa.  The 180km rain forest in Kibale is a birders paradise with over 374 bird species. While on tour of Kibale Forest, birders can spot the Abyssinian Ground thrust, African Grey Parrot, Black Bee eater, Black capped Apalis, Black eared Ground Thrust, Blue Breasted Kingfisher, Blue headed sunbird, Brown Chested Alethe, Brown Illadopis, Collared Apalis, Crowned Eagle, Dusky Crimsonwing, Little Green Bul, Purple breasted Sunbird, Red Chested Owlet, Red Faced Woodland Warbler, Scaly breasted Illadopsis, the African Pitta, Western Nicator, White naped Pigeon, Yellow Rumped Tinkerbird and yellow spotted Nicator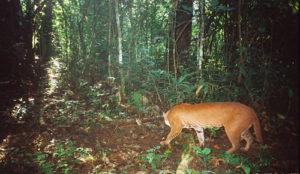 Other wildlife: Apart from the primates and birds, Kibale National Park is home to 14 snake species, over 200 butterfly species, 27 frog species and over 20 types of reptile. Kibale National Park has nearly 70 species of mammal among which include bats, bush pig, giant forest hogs, elephants, forest buffaloes, leopards, hippopotamus, bushbuck antelopes, red/blue duikers, sitatungas semi aquatic antelopes, warthogs, African golden cats, mongooses and the occasionally spotted hyenas.
Local people: For those interested in experiencing the local culture, there are a lot of activities worth taking. The Batoro are the dominant tribe living near the park and visiting them should be top on the list for anyone interested in a cultural experience. The Batoro are a proud people with a rich heritage, culture, history and a King called the Omukama. Another tribe you might want to visit are the Bakiga. The Bakiga are known as hardworking people who rely on subsistence farming of various local foods and particularly the famous Matoke (bananas). They were welcomed to the area by the Batoro as migrants and their population has since increased. One of the best ways to experience an African culture is to visit a local family or an organized cultural center where you get to learn about the local dances, language, food and ancient stories. The Bakiga and Batoro have benefited a lot from tourism activities in the region. Before tourism activities became prominent in the area, they relied solely on the forest and their farmland for food.
Nature walks and Hikes: Talking a walk through the vast forest is a great way to discover and marvel at the great biodiversity in the park and surrounding landscapes that include visiting the Amabere caves.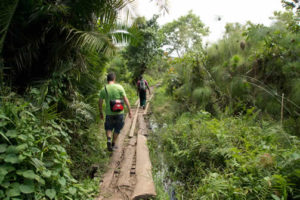 The starting points can be from Sebitoli or Kanyanchu. Regardless of which section of the park you choose to start your walk, you will be treated to the full spectacle of tropical forests, grasslands, swamps and rivers. For those interested in observing how the local people go about their daily lives and work in the gardens a walk through Nyaibanda, Nyakalongo and Kikoni villages would be perfect. Night walks can also be arranged to see nocturnal animals like pottos, bush babies and other rare birds that are only active at night.
Bigodi wetlands and bird sanctuary: A special nature walk can be arranged to visit the Bigodi Wetlands Sanctuary within the park. This is one of the best places for bird watching and primates viewing in East Africa and attracting thousands of visitors annually. A three hours walk through the Bigodi swamp allows you to spot over 310 bird species. As you walk through the palm trees and different plants expect to see at least 5 species of primates.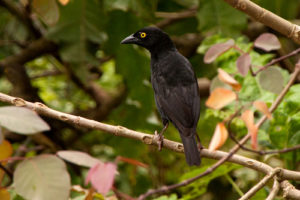 Activities for Children: Professionally trained rangers, guides and drivers are available to ensure that both children and adults enjoy their time while on a safari in Kibale National Park. Children below 13 years are not allowed to go for chimpanzee trekking and are often left at home by their parents while on a primate safari in Kibale national park. This shouldn't be the case. This shouldn't be the case because children unable to take part in some activities can be taken for walks around the forest to see forest animals, birds and the different varieties of plants. The other activities for children include batik making, photography and pond dipping.
Accessing Kibale National Park
Accessing Kibale National Park is much easier than Bwindi or Mgahinga which are located in the South Western corner of Uganda. There is a direct route from Kampala that takes between 5 to 6 hours driving past Mubende and Fort Portal. Those approaching the park from the southern section can use the Kamwenge or Mbarara road.  A much more convenient and faster way of accessing the park is by using a chartered flight from Kajjansi along the Entebbe-Kampala highway to either Ndali or Fort Portal and then taking a car to the park.
The best time to visit Kibale National Park
The tropical climate and location around the equator ensures that tourism activities take place throughout the year in the park. However there are two seasons in most countries of the equator – the rainy (low) and dry (peak) season with each season occurring twice a year. These seasons affect the quality of a safari in Kibale National Park. The peak season of the year occurs during the dry months of December to February and June to September. These dry months are characterized by little or no rainfall. There is less mud making it easy to drive or take walks within the park. During the dry season, there is less vegetation cover and thick bushes which allows for easy sighting of animals making for an enjoyable holiday. The months of March to May and late September to November are the low seasons with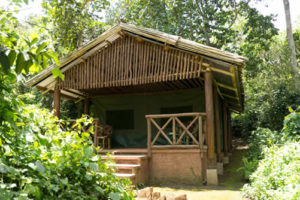 relatively more rain. This may not be favorable to some clients but birders will find this season appealing as it is the breeding season for birds and several migratory species appear filling the forest with beautiful sounds in perfect green. Most tourists prefer visiting the park during the dry seasons as they are considered the best time to go for a Uganda safari. Our recommendation is that visitors come two to three weeks after the rainy season is over for the best experience. During this time the mud has disappeared and the country as a whole is still very green offering amazing sceneries.
Packing list for Kibale National Park
Kibale unlike Bwindi impenetrable forest National Park has relatively easy forest trails and walkways that require a rather simple packing list.  We believe the following items should be included while on your safari to Kibale National Park.
Travel documents: You need to always have your travel documents with you while on an African safari. Important travel documents include a VISA, Passport and the yellow fever vaccination card. Without these documents expect to have a hard time at the border crossing or airport that may lead to unnecessary costs.  The passport must have at least 6 months still remaining to the expiry date.  It's advisable to make several copies of each of these documents to avoid any inconveniences later on. While preparing for your tour of Kibale National Park, you could also plan to pack your travel insurance card, medical insurance card, an updated travel itinerary and relevant local maps.
Pocket change: A safari in Kibale National Park may require you to have some pocket money which you would need for small transactions like paying, porters and buying art crafts. You might wish to reward your guides for making your safari so amazing but do not have money to give because of a lack of lose change. Although dollars are accepted by locals, some transactions may require local currencies.
Emergency phone numbers: You need to acquire a local sim card as soon as you arrive for easy communication while visiting Kibale national park. Phone networks in Uganda are well planned and accessible even in remote areas at a cheap cost. You need to register with one of the networks so that you are covered up in case of any emergency. Your company guide should help you register with one of the network providers and acquire a number. Ensure you have all your identification details/documents for successful registration.
Clothes: Like any African safari, you need to come with long sleeve shirts and long trousers. The color should be dull considering that you might be travelling in dusty environments with strong winds. To keep warm during the cold nights or rainy/wet seasons, you need to pack a sweater and rain jacket. Most lodges and hotels have a swimming pool and you should have a swimming costume.
Hiking shoes: A simple, strong, comfortable and waterproof shoes is recommended during your Kibale National Park tour. You will also need comfortable stockings that are easy to dry and light sandals for evening relaxation at your lodge after your activities.
Insect repellents: Countries in the tropics like Uganda have many insect species and a good repellent will be very handful.
A camera and binoculars and other gadgets: You will regret later on if you don't come with a good camera to capture all the memorable moments during your Kibale Forest safari. Other items to pack that might help make your safari comfortable and memorable include your ipad, phone and a waterproof simple backpack.
Other essentials: If you have extra space, acquire a flash light, hand sanitizers/wipes, electric adaptor, vaseline, antibiotics, allergy medicines, toothbrush, lip balm, vitamins, pain killers, sanitary necessities and hair shampoo.
Accommodation facilities in Kibale National Park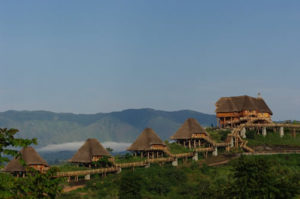 A safari holiday is worth remembering if it is spent if at the end of each activity, you had to retire to a aomfortable room surrounded by beautiful scenery and clean air. Kibali National Park is blessed with a variety of accommodation facilities. The types of accommodation during a safari in Uganda range from up market, mid-range and budget.  Most of the lodges and hotels are found within the Kanyanchu, Ndali, Nkingo, and Bigodi areas of the park. Let us look at some of them in detail.
Primate Lodge Kibale Uganda: The primate lodge in Kibale is a luxury lodge that is located strategically in the forest and to allow for easy viewing of wildlife. It has fashionable and comfortable rooms and is designed to be eco-friendly.  There are 8 luxurious grass-thatched safari tents that stand on wooden platform giving them an African design.  There are also 7 luxurious cottages or tree houses that are good for spotting elephants, chimpanzees and other primates that frequent the place. The lodge offers well-furnished spacious rooms with luxurious beds. There are en-suite bathrooms, toilets and a sitting room. There is also a well furnished lounge area, on site bar and restaurant that serve tasty local and international dishes.
Tourist activities that can be undertaken while at the primate lodge include walking through the Bigodi village, forest walks, visiting the crater Lakes, birding, chimpanzee tracking and hiking the slopes of the Rwenzori Mountains. The lodge also organizes cultural dances and performances besides fireplace every evening as you rest from tiring but enjoyable sets of activities.
Chimps' Nest Uganda: This is an eco-friendly lodge that is located at Nyabubale between the villages of Bigodi and Nkingo. The lodge is built with local material and uses solar lighting.  Chimps' Nest has got self-contained tree houses and cottages and is surrounded by vast farms of ginger, peanut, coffee and pineapple. The common tourist activities around the lodge include spotting animals like chimpanzees, elephants, monkeys and birds. Visitors to the lodge also have opportunities to marvel at the stunning Rwenzori mountain ranges and take nature walks.
Nyinabulitwa Country Resort: Is a budget and mid-range hotel located 20 Km from Fort Portal town that offers well furnished, self-contained cottages with single and double beds. There is an African craft shop and an onsite restaurant that serve both local and international cuisines. Visitors can take part in a variety of tourist activities like forest/village walks, primate tracking, birding, fishing, canoeing, mountain hiking and wildlife viewing – elephants, buffaloes and bush pigs.
Kibale Forest Camp: The Luxurious Kibale Forest Camp is built adjacent to the park and off the Kamwenge – Fort Portal road.  The lodge offers 7 luxurious tents that are furnished with double beds and en-suite bathrooms/toilets. The room verandahs allow visitors to have stunning views of the park, forests and birds. Visitors can go for village walks, Rwenzori mountain slope hiking, chimpanzee tracking and general wildlife viewing.