Uganda is well known for her great climate, wildlife and friendly people. Most visitors to Uganda combine birdwatching with other activities like wildlife safaris and sightseeing.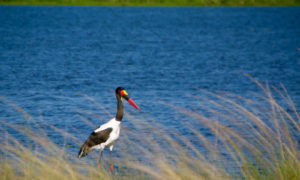 Bird tourism  may not be as well developed or marketed as say gorilla tourism, but Uganda is considered among the best places for birding tours in the world and arguably the best in Africa. Over 1035 bird species have been documented in Uganda and about 30 birding areas have been set aside for birding activities. Endemic species like the Stuhlmann's Double-collared Sunbird, the Fox's Weaver as well as well the great Shoebill attract droves of bird lovers every year. This small landlocked country surprisingly has more birds per square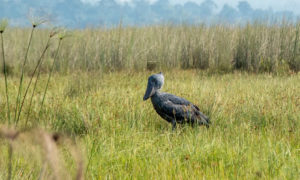 Kilometer than any other country in the continent. This implies that while birding in Uganda, visitors are rewarded with many bird sightings without having to travel great distances or deep into the countryside. You can literally see them right from the airport in Entebbe, within the capital Kampala, outside your hotel room and as you move around. However you need to go to one of the major birding sites located in the countries beautiful and spectacular to fathom how gifted by nature Uganda  is.
The high density of bird species per square kilometer within the country is attributed to two things:
Location within the equator, the Tropics and the Albertine Rift Valley: Areas around the equator are blessed with fresh water lakes, rivers, great swamps and rain forests – Uganda is no exception. These natural features provide homes and breeding grounds for numerous bird species.
Diversity of Habitats: From the great lakes/rivers, rain forests, the great East African rift valley, mountains, semi-arid areas in the northern part of the country, Uganda has a unique and wide range of habitats for several bird species – many of which are endemic to the country. These habitats provide breeding, feeding and gathering points for both local and migratory birds.
Top bird species in Uganda
The most sought after bird species in Uganda are the Shoebill stork, African Green Broadbill,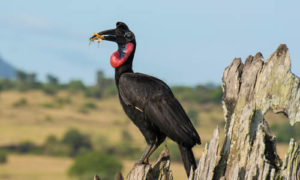 Black Bee-eater, Brown chested pullover, Brown-chested Lapwing, Green-breasted Pitta, Jahan's Francolin, Jameson's Antpecker, Karamoja Apalis, Purcell's illadopsis, Puvel's Illadopsis, Nahans francolin, Red fronted anti pecker and the Rwenzori Turaco. Other species of note include the African Harrier hawk, Cinnamon-chested bee-eater, Crowned hornbill, Giant kingfisher, Goliath Heron, Green pigeon, Martial Eagle, Mountain greenbul, the Secretary Bird, Shelley's crimsonwing, Short-tailed warbler, The African Darter, The grey crested crane, Western green tinkerbird and Yellow-billed Stork among many others.
Important Birding Areas in Uganda
The best place to spot birds in Uganda is in one of its spectacular national parks and reserves. It is in these national parks and reserves that bird sanctuaries remain fairly intact to ensure an impressive density in bird species. Because of Uganda's remarkable variety of fauna and flora, it's more fulfilling to watch birds while looking out for other wildlife species.
Uganda's top birding spots  include:
Bwindi Impenetrable National Park: Apart from holding half of the world's population of mountain gorillas, Bwindi impenetrable forest has been voted as the top birding spot on Africa. The park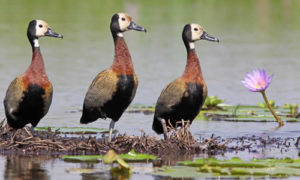 has virgin forests which provide habitats for several bird species, butterflies, primates and mammals. Gorilla trekking is the top activity in Bwindi but one can also spot chimpanzee, small primates and forest mammals while birding.  Over 350 bird species have been recorded in Bwindi. They include species unique to the Albertine rift such as the African Broadbill, Archer's Robin chat, Black Bee-eater, Black-faced Rufous Warbler, Collared pails, Equatorial Akalat, Forest Robin, Grey-throated Barbet, Hairy-breasted Barbet, Kiev gerund thrush, Narina's Trogon, Pale-breasted Illadopsis, Pettit's Cuckooshrike, Red-throated Alethe, Montane Oriole, Rwenzori batis and the Yellow-eyed black flycatcher.
Species that are commonly found in Rujija (in Bwindi forest) include the Banded Prinia, Black-Bee-Eater, Brown-chested Alethe, Grey Cuckoo shrike, Grey-green Bush-shrike, Luehder's Bush-shrike, Mountain Illadopsis, Slender-billed Greenbul, Strange Weaver , White-browed Crombec, White-starred Robin and the Yellow-streaked Green bull.
Other notable species found in the forest include the African Broadbill, African Crake, African Skimmer,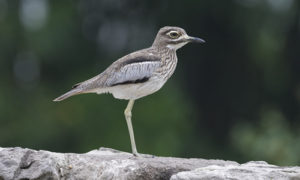 African Wattled Plover, African White-backed Vulture, Bar-tailed Godwit, Bateleur, Black Bee-eater, Black-bellied Bustard, Black-rumped Buttonquail, Brown Snake Eagle, Brown-backed Srub-Robin, Chapin's Flycatcher, Corncrake, Croaking Cisticola, Crowned Plover, Flappet Lark, Grey Kestrel, Hooded Vulture, Hittlitz's Plover, Lappet-faced Vulture, Lesser and Greater Flamingo, Long-created Eagle, Martial Eagle, Palm-nut Vulture, Papyrus Canary, Papyrus Gonolek, Pink-backed Pelican, Rufous napped Lark, Ruppell's Griffon Vulture, Senegal Plover, Shoebill, Temminck's Courser, Verreaux's Eagle Owl, Wahlberg's Eagle, White-tailed Lark, White-winged Warbler and the Zitting Cisticola among many others.
Queen Elizabeth National Park: Located within the western rift valley, Queen Elizabeth is the most visited national park in Uganda. Over 545 documented bird species can be found in Queen Elizabeth national park. This beautiful game park is surrounded by amazing features/landscapes including the Lake George and Lake Edward which provide the perfect habitat for various birds and other wild animal species. The impressive variety of bird habitats include the Maramagambo forest, the park's Kasenyi area, the Katwe area, the Mweya area, Ishasha sector, the Kazinga Channel and the Lake Kikorongo. The Kyambura gorge within the park may be famous for chimpanzee trekking but hosts several interesting species like the black and African Emerals Cuckoos, the Green Hylia, the purple-headed starling, Hairy breasted Barbet, Grey Wood pecker and the speckled Tinker. Watching birds while on a boat cruise along the Kazinga Channel in the park is the most preferred method by bird lovers visiting the park.
Bird lovers should expect to spot the following species while on a tour of Queen Elizabeth national park – The African fish eagle, African Jacana, African Pygmy-goose, African Skimmer, Black bee-eater, Black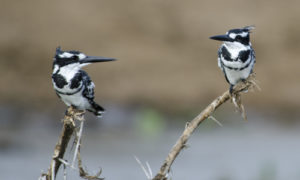 Crake, Black-rumped Buttonquail, Black-billed Barbet, Black-chinned Quail-finch, Blue-breasted, Collard Pranticles, Falcons eagles, Fish Eagle, Flamingoes, Grey-headed kingfisher, King fisher, Knob-billed Ducks, Leaf-love, Lesser Swamp-warbler, Long-tailed Cormorants, Martial Eagle, Open-billed Stork, Papyrus Canary, Papyrus Gonolek, Pelicans, Pied kingfishers, Pink and white backed Pelicans, Red-necked Falcon, Shoebill stork, Spur-winged Plovers, Squacco Heron, Swamp fly-catcher, The malachite, Thin-tailed Nightjars, Verreaux's Eagle-owl, Water-Thick knee, Wattled Plovers, White winged terns, White-faced Whistling, White-headed Barbet, White-winged Warbler, Yellow backed Weavers and Yellow Bishop among many other species.
Kibale Forest National Park: With over 330 registered bird species, Kibale Forest National Park is one of the best places to go birding in Uganda. Some of the documented Species include the Abyssinian-ground thrush, Afep Pigeon, African pita, Bi-colored Manikin, Black Bee-eater, Black-bellied Seed cracker, Green-backed Twin spot, Grey throated fly catcher, Grey winged pigeon, Joyful green bull, Marsh Tchagra, Narina's Trogon, Olive Long-tailed Cuckoo, Red-chested fluff tail, Red winged francolin, Scaly Francolin, Uganda woodland-warbler, White bellied crested flycatcher masker and White-napped Pigeon.
Budongo Forest: Budongo forest is located within one of top tourism destinations in Uganda – the great Murchison falls national park. The forest may be famous for chimpanzee trekking but is also considered one of the best places to go birding in Uganda. The forest is a great habitat for several  bird species like the African Dwarf Kingfisher, African Pied Hornbill, Banded Snake-eagle, Black Bishop, Black-bellied Fire finch, Black-capped Apalis, Brown Twin sport, Brown-backed Scrub-robin, Cameroon Sombre Green bull, Chocolate-backed Kingfisher, Crowned Eagle, Dusky Long-tailed Cuckoo, Fire-crested Alethe, Forest Flycatcherand, Forest Francolin, Green Hylia, Ituri Batis, Lemon-bellied Crombec, Pale-breasted Illadopsis, Red-tailed Antthrush, Rufous-crowned Eremomela, Slender-billed Green bull, Spotted Green bull, White-thighed Hornbill, Yellow and Grey Longbills, Yellow-billed Barbet, Yellow-browed Camaroptera, Yellow-footed Flycatcher and the Yellow-spotted Barbet among other species.
Mabamba Swamp: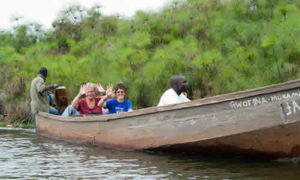 The Mabamba Bay Wetland swamp is a habitat to the Black-billed Turaco, Blue-breasted kingfisher, Blue-shouldered Robin-chat, Dusky Long-tailed Cuckoo, Fire-crested Althea, Grey Parrot, Hair-breasted Barbet, Lemon Dove, Olive Green bull, Snowy-headed Robin-chat, Sooty Boubou, Wayne's Weaver, White-spotted Fluff tail and the Woodland Warbler among other species.
Bigodi wetland sanctuary: This vast bird sanctuary host species like the Black billed turaco, Black-faced Rufus Warbler, Blue-breasted Kingfisher, Blue-headed Coucal, Scaly-throated-Honey guide and the White spotted crake.
Other important birding areas: The Mpanga Forest Reserve, Mabira Forest Reserve and the Semuliki National Park.