In the year 2018, Mission Africa Safaris was proud to become partners with the project for a bestselling book "Uganda from A to Z". The project was initiated by Stefanie Pollender and Stefan Friedrichsen in partnership with Ugandan artist Emmanuel Kavuma.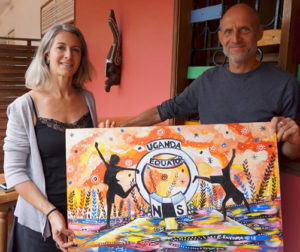 The Uganda from A – Z book project portrays the uniqueness and beauty of Uganda through original art pieces that is accessible to both children and parents/adults alike.  It is the first book Stefanie and Stefan have published. Apart from the book project, the two also work as Development practitioners and are trying to have a positive impact on the communities they live in. They have worked in several countries including the Middle East, Zimbabwe and now Uganda.
Stefanie gives a little background about how the idea of the book came to be on the facebook page Uganda from A to Z . This is what she had to say:-
When we were about to move back to Uganda, our children asked us "What will Uganda be like?"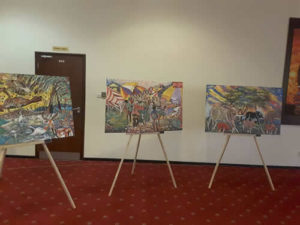 My husband and I looked at each other and thought "How can we tell our children about the beauty of Uganda, about unique features that we only find there and nowhere else in Africa, about the amazing friendliness of the people and the creative ways they master their everyday lives?" As two parents, we read books to our children every evening. So we tried to find a book that would help them learn about their new home Uganda. We quickly realized that there was not a single book that described the highlights of the Ugandan lifestyle, country and culture as beautifully and amazingly as we both perceive it.
This is when our idea was born: we decided to make such a book ourselves. A book that would tell the story of Uganda from A to Z and that would not only teach our children, but many children. A book that would make Uganda travel the world and would give everyone an insight into Uganda's beauty. A book that would tell a different story about a country in Africa, from where normally only bad news derive. A book that would help parents and children engage and exchange.
It was a sign of fate that we ran into Emmanuel Kavuma, a self-taught visual artist who uses a colorful style of painting that immediately fascinated us. Emma was excited about the idea to be part of the project and before we could even see, he had the first painting completed for the book: the letter A for Ankole cows. Emma kept creating one after the other beauty of a painting over night and sent it to us on whatsapp – so every new morning we woke up to a new inspiring surprise!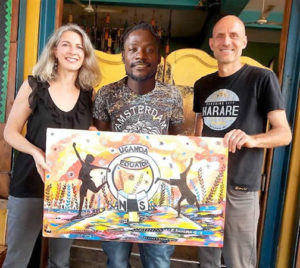 Since we both have worked in the field of development and community support, we wanted our book to give back to the community we now live in. Therefore, we identified Mukisa Foundation as our partner. Mukisa supports families that have children who live with a disability. Back in 2009 I had met the founders and had a chance to get a first-hand insight into their work. Today their organization has grown and is still providing much needed support for the children and parents in the form of occupational and physiotherapy, educative sessions and by providing support devices for the children. We strongly believe that every child deserves a life with adequate support, education and love and therefore, a percentage of the sale of each book goes towards Mukisa.
We hope that many people will now help us to make our dream come true: let Uganda travel the world, let us read it in every bedroom of this world, showing our children love and tenderness while at the same time supporting Mukisa to continue doing the great work they are doing!
And let's not forget that by promoting this book you are also promoting a Ugandan artist, who is passionate about wildlife conservation and at the same time is passionate about engaging children in educative encounters. Emma is planning to build a creative art center in Kampala's suburb Kawempe to give children a room where they can express themselves creatively.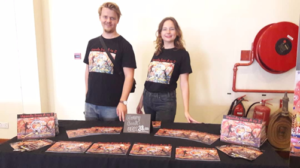 Various original paintings from the A-Z book are for sale. Select your piece and get in touch! Get yourself an original art piece from a best-selling book in Uganda!
If you have bought a book, we would love to hear from you where you are reading it to your children. Has it already travelled the world? Send us a picture of you and the book, or just a comment on our facebook page https://web.facebook.com/ugandabook/ or send us an email to ugandabook@pollender.net .
The book was launched on the 23rd of September 2018 in a colorful ceremony of art, music and dance at the Serena Hotel in Kampala.  In attendance were guests from countries across the globe including staff from Mission Africa Safaris. Among the keynote speakers was his Worship Sserunjogi Charles Musoke Ssalongo, the Municipal Mayor of Kampala Central Division Urban Council and Princess Diana Balizza Muggale Teyeggala. An eye catching dance performance by the Ghetto Kids lit up the ceremony which was then crowned up with a live painting by Emmanuel Kavumu himself.
The book has already become a bestseller in Uganda since its launch less than four months ago. The Books are available at Aristoc Booklex Uganda, Makindye Country Club and the Bookpoint Uganda among many other places.
5% of the sale of the books and paintings goes towards to Mukisa Foundation, a treatment and prevention center for families of children with special needs.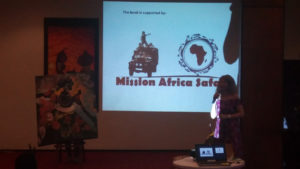 All the paintings where up for sale during the launch. Mission Africa Safaris bought the gorilla painting which we felt would look nice in our offices and appeal to our clients. We are planning to acquire more Emmanuel Kavuma paintings and copies of the book to give as gifts to our clients upon the completion of their safari holiday in Uganda. We thank all the guests that attended, the organizers and the other sponsors of the event including the Kampala Serena Hotel, Goethe-Zentrum Kampala UGCS, Igafu Safaris and the International School of Uganda-ISU.