Rwanda is highlighted as the best destination for mountain gorilla trekking, Volcanoes national park in Musanze is the home for the greatly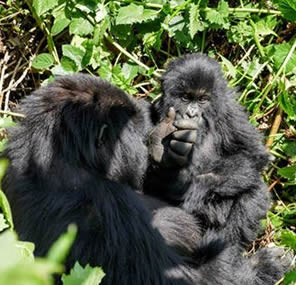 sought endangered mountain gorillas only surfing in just 3 countries – Rwanda, Uganda and Democratic Republic of Congo, which are the only destinations in the world where tourists can watch mountain gorillas in the wild. Gorilla tourism in Africa is part conservation initiative project which was pioneered by Dian Fossey to save the critically endangered mountain gorillas which, if not for income earned from tourism would still be at a verge of extinction.
Trekking for mountain gorillas in Volcanoes national park basically means hiking up a  steep volcano through dense bamboo jungle in search for your selected gorilla family. The hike is challenging and finally seeing mountain gorillas in beyond what you have imagine. The one hour spend with the gorillas in the wild is a lifetime experience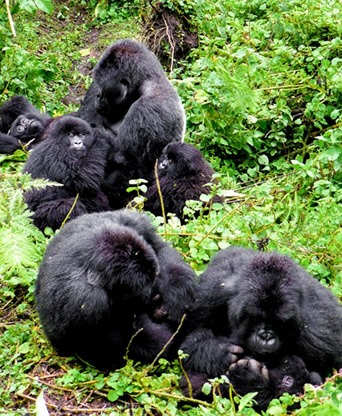 One must book a Rwanda gorilla permit in advance, so as to catch a spot for gorilla hiking on a given date. Gorilla permits go for $750 which goes directly to gorilla conservation efforts and to development programs of the local community. Daily there 10 gorilla families available and 8 people visit a single gorilla group to limit human exposure to gorillas, which means  there are just 80 gorilla permits available per day.
A gorilla safari in Rwanda offers you several habituated groups/ families to choose from and it's important to select one based on fitness.
The family of gorilla is breath taking to watch and you could spend hours just watching the little ones roll around and play. Mountain Gorillas are always playful and quite curious often coming close.
While with the gorillas, its important to listen to your guide instructions and stay calm, never make sudden movements.
Minimum trekking gears you need:
good hiking boots, gators, gloves – thick cotton, leather, goretex, raincoat – preferably thin, light snacks and water 1-2 liters. Importantly hire a porters – they are available at the starting points.
Keep in mind that these porters were ex poachers given an chance to earn a living by carrying bags for visitors going for gorilla trekking. They are very helpful, polite and friendly.
For optimal trekking adventure
Have a decent fitness to enjoy the trek
Wear proper footwear ready to hike through difficult terrain – good shoes make it easier for you
Have a plan for rain
Carry sufficient water and light snack
Great to tip the guides, rangers – they work hard to ensure you have an optimal gorilla adventure. They need some encouragement! recommendation tip is $10usd preferably in local currency per porter, guide, ranger.
Where to Stay
What Else to do in Volcanoes
How to Get there