Mount Nyiragongo hike tours were opened to tourism in 2014 by the Virungas National Park authorities.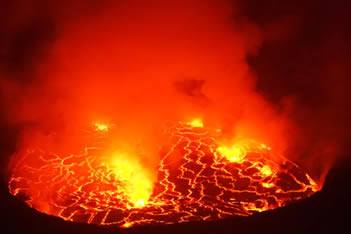 Being one of the world's largest and active volcano, the Nyiragongo volcano lava lake very intriguing – quite impressive and a must visit for adventure seekers looking for a lifetime hiking adventure
Situated East of Democratic Republic of Congo, overlooking the Virunga national park, Nyiragongo volcano is one of the 8 volcanoes within the virunga conservation region which covers other volcanoes like – mt. Karisimbi, mt.Bisoke, mt.Muhabura, mt. Sabyinyo, mt Mikeno, mt. Gahinga and mt.Nyamuragira.
The Nyiragongo volcano rises at 3470 meters offering a medium hike to the top of the volcano approximately 5 – 6 hours.
Accessing Mount Nyiragongo
Mount Nyirangogo can be accessed from Gisenyi town driving 20 km to the Rwanda-DR Congo border into Goma a city of black rock a big reminder of 2002 eruption of low viscosity viscous lava flow at high temperatures which cooled to leave a black rock.


The drive from Goma takes you to the head trail of the nyiragongo volcano situated at Kibati village. Before the hike starts, you receive overview briefing of what to expect during the hike.
Overnight
12 summit cabins are provided at the top of the volcano each comprising of 2 single beds where hikers can put their sleeping bags. Summit overnight is inclusive on the permit fee. At the cabins you can smell the boiling and bubbling lava
Congo Visas
Congo single entry tourist visas – USD $105 Per Person
Note: Single entry visa is valid for 14 days from day of entry
Congo Visa Requirements
– First buy a mountain gorilla pass / permit, Nyiragongo hiking permitnon refundable
– Book and pay for accommodation at the Mikeno Lodge.
Packing List
Hikers must pack a rain jacket
sturdy hiking shoes/boots
Warm clothing – sweater, jacket, rain resistant pants, long underwear, warm socks, hat
Temperatures at the summit is below freezing
warm sleeping bag
Packed lunch and at least 2l of water
Hire a porter at the base of the volcano – 15$ per day to carry your backpack (maximum weight is 15 kgs)
What is provided at the cabins
Snacks, hot dinner, breakfast,water, sleeping bags.
Book Tour