Uganda has a total number of 14 habituated gorilla families with each group comprising of 10 to 40 members of varying ages headed by a silverback gorillas (the oldest male) in the group. Bwindi impenetrable forest hosts 12 habituated mountain gorilla families and 2 more families available for gorilla habituation experience. Only 8 Gorilla permits  are available each day for each gorilla group.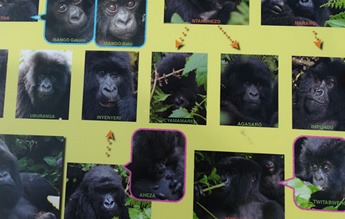 Gorilla families are given names depending on their formation history, group location and name of the dominant silverback.
Mgahinga national park hosts just one gorilla family – the Nyakagezi group. Few visitors go to Mgahinga for gorilla trekking but they miss seeing perhaps the largest gorilla family anywhere around. The process of Gorilla habituation is best experienced in Mgahinga Gorilla Park.
Let us look at Gorilla families in Uganda in detail:
Mubare Gorilla Family – Buhoma (Bwindi)
Because of their location, this is the easiest family to track in Bwindi. The name Mubare originated from the first gorilla trackers in the area. The group currently contains 8 members led by Kanyonyi.  This is the oldest gorilla group in Uganda and opened back in 1993. Initially under the leadership of Ruhondeza, the group has decreased in number over the years from 18 members when first sighted. Infighting, death and member migration to other groups left about 5 by 2012.
Ruhondezas' leadership ended when another group attacked and took away his females in 2012. Ruhondeza lived for over 50 years and continued to be monitored by researches till his death. His grave is marked and can be located by a guide.
Habinyanja Gorilla Family – Buhoma (Bwindi)
This gorilla group is among the very first to be opened to tourists. The group contains 17 members and is led by Makara who replaced Habinyanja.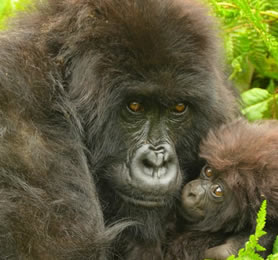 This group was habituated in 1997 and was then led by silverback Mugurisi (old man). The group was named "Habinyanja" (place with water) in Rukiga because they were first sighted near a swamp in Bwindi. After passing away due to old age, Mugurisi was replaced by his two brothers Rwansigazi and Mwirima who had different personality traits. Mwirima liked staying within a specific range while Rwansigazi loved moving around different sections of the forest. In 2002, the two brothers separated peacefully. Rwansigazi left with part of the group and retained the "Habinyanja" name while Mirimas group was named the Rushegura family.
Rushegura Gorilla Family – Buhoma (Bwindi)
The Rushegura group contains 19 members that include one silverback.  This is the group that was formed when Rwansigazi and Mwirima separated from the larger Habinyanja group in 2002. The Rushegura name is derived from "Ebishegura", a tree specie common within the family's territory. Mwirima's ability to create a stable and calm family is admirable as the number of individuals increased to from 12 to 19 by April 2010. At about 25 years of age Mwirima is strong and dominant, never shying away from confronting wild groups threatening his authority. Because of the groups' stability and calmness, they are not shy around people and can be seen around lodge gardens.
Bitukura Gorilla Family- Ruhija (Bwindi)
The Bitukura Family has 14 individuals from its original 24. The group is led by Ndahura who took over from the now retired Karamuzi. The group that also has three other silverbacks was named after a river near their territory. Whereas the habituation process for mountain gorillas takes 2 or more years, it took only 15 months with this family. Visitors where first allowed in October 2008 but the group had already had frequent encounters with park rangers whenever they mixed with the already habituated Kyaguriro family.
Oruzogo Gorilla Family – Ruhija (Bwindi)
With 25, members, this is a large group by usual standards. It is the second family in the Ruhija area and includes two silverbacks. Tibirikwata leads the group that first opened to visitors in 2011. The group has grown and is much loved by visitors because of its playful youngsters resulting from several births from the females Ntamurungi (June 2011), Musi (October 2011), and Kakoba (March 2012).
Nkuringo Gorilla Family – Nkuringo (Bwindi)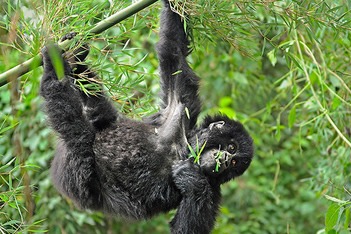 Nkuringo the great silverback initially led this group that now includes 19 individuals. After his death in 2008, he left two silverbacks Rafiki and Safari. Safari, his son took over from him. The group was first spotted near a round hill hence the name "Nkuringo" in Rukiga. Because the group lived near the villages outside the park, they had frequent encounters with humans and often sneaked to eat crops hence having creating conflicts. It was decided to habituate the group in 2008 to allow the community gain from tourism and see the conservation of gorillas as bringing economic opportunities to them.
Nshongi Gorilla Family – Rushaga (Bwindi)
At the time the group was opened to visitors and tourists in 2009, the Nshongi family had 37 individuals – the largest ever habituated. It currently has 26 individuals and 4 silverbacks. The family was first seen near a river hence the name Nshongi (referring to the deep honey-like color of the river). When it was opened for tourism in September 2009, the family was unique due to its large size. Before they split in 2010, the family lived in harmony despite the many silverbacks. The Nshongi group under the dominant silverback Nshongi remained with 26 individuals while silverback Mishaya moved away with 10 individuals.
Mishaya Gorilla Family – Rushaga (Bwindi)
When Mishaya left Nshongi in 2010, he developed a reputation of starting fights with other gorilla families not only to protect his own, but to also steal females from neighbors. He succeeded in gathering a few females but was wounded in one of the fights with a wild gorilla family (not habituated). Luckily he was treated by gorilla conservation doctors nearby. The group now has 12 individuals with Mishaya the only dominant silverback.
Kahungye Gorilla Family – Rushaga (Bwindi)
This group contains 13 members including 3 silverbacks led by Rumansi. Ruhamuka and Rwigi are the other old males. The group was only recently (2011) opened for visitors. The group had 27 members when habituated but split shortly after creating another group Busingye. The Kahungye group is led by "Gwigi" (door in the local dialect).
Bweza Gorilla Family- Rushaga (Bwindi)
This group was opened to visitors in 2012. The group evolves from the Nshongi gorilla family which was the largest family ever habituated in Bwindi. When Silverback Mishaya separated from Nshongi in 2010, Bweza left him two years later (2012) with six members. The group contains 9 individuals still led by Bweza.
Busingye Gorilla Family – Rushaga (Bwindi)
This group was opened to visitors in 2013. Busingye leads this group of 9 members after splitting away from the Kahungye family in 2012. Though his name means peace, Busingye is known for frequent fights and stealing females from neighboring Gorilla groups. He is very ambitious, dominant and uses every opportunity to show his power.
Kyaguriro Gorilla Family – Ruhija
The Kyaguriro group contains 15 members led by Rukina who grabbed power from the old Zeus. The group has been set apart for research by conservationists and limited access is given to visitors. Researchers have come up with interesting findings from this group. Their findings show some differences in behavioral tendencies between Uganda's Gorilla families, Rwanda's Gorilla families and  DR Congo's Gorilla familes.
Gorilla Families in Mgahinga National Park
Nyakagezi Gorilla Family – (Mgahinga)
There is only one habituated gorilla group in Mgahinga National Park. The group is unpredictable and often migrates to Rwanda and Congo led by Mark the dominant Silverback. Apart from Mark, there are 2 other silverbacks in a group of 10. Because of their unpredictable movements, viewing the family can be difficult. Although they have currently settled in Uganda, you need to contact the authorities through your tour operator to know their exact location.